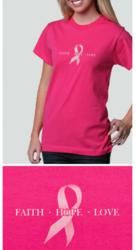 20% of the Revenue from Awareness Products is sent to the Susan G Komen Cancer Foundation
Arcanum, Oh (PRWEB) September 08, 2011
All American Clothing Co. has been a strictly USA Made clothing company for 9 years with a promise of world class products and world class service to its customers. The company's staff understands, believes and is passionate about doing their part to change the US job economy and helping people. With the purchase of one All American Clothing Co. product, customers are given the opportunity to make a difference in keeping jobs within the USA. The next step in their long term effort to help USA citizens is to support charities that are trying to make a difference in the battle against cancer. With this being said, the employees of the All American Clothing Co. are pleased to announce its new release of Breast Cancer Awareness Products, such as decorated pink T-Shirts, Totes and Hats.
With the release of new Breast Cancer Awareness products, customers will have an opportunity to help both jobs in the USA and raise breast cancer awareness. The All American Clothing Co. will be donating 20% of the retail revenues from Breast Cancer products to the Susan G. Komen Cure Foundation. The Komen foundation is the most widely known and largest breast cancer organization in the U.S. Since the foundation was started in 1982, Komen has raised almost $2 billion in breast cancer research in the U.S.
The All American Clothing Co. would like to invite you to help those in need of care and assistance in the battle against cancer. 20% of your USA Made purchase will be donated to the Komen foundation in order to help provide funds for cancer research. All American Clothing Co. is making a strong effort to become a leader of good causes in our country. It is the company's goal to reach out and help raise awareness as much as possible throughout the USA. For you to be a part in raising breast cancer awareness, go to http://www.allamericanclothing.com for more information.
All American Clothing Co is a jeans and apparel production company that genuinely believes in the need for USA Made products and at-home jobs; including charities that save lives. You can help to save a life.
###