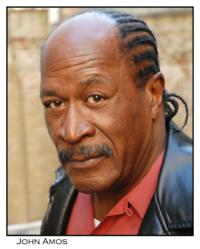 "Scott Decker drew me in to his new play with his inventive writing style and creative approach to the subject of good versus evil. I'm having a blast working on stage alongside the cast of gifted actors and our lovely director Rebecca."
New York, NY (PRWEB) September 09, 2011
Emmy-nominated actor John Amos stars in the new play Felony Friday, written by Scott Decker. The play directed by Rebecca Yarsin, had its world premier during The FRINGEnyc Festival, August 2011 and was performed at the Connelly Theater in front of sold-out crowds every night.
Felony Friday is being brought back by The FringeNYC for the Encore Series for a limited engagement at The Players Theatre, located at 115 MacDougal Steet, beginning Saturday September 10.
Amos' performance is described by one writer as "absolutely captivating." His character BBI, is a tormented man in jail for murdering his wife's lover. While behind bars he and his mob boss cell-mate Paul Giacomotti played by Joe Wissler, conspire to kill Jack played by Scott Decker. The two men believe that Jack is the devil's henchman sent there to take their lives.
Felony Friday opens Saturday, September 10 at The Players Theatre located at 115 MacDougal Street, for four performances only. The dates and times are: Saturday September 10 at 7:30, Sunday September 11 at 8, Tuesday September 13 at 7:30 with a final performance on Thursday, September 15 at 9:30. For additional information about the play contact the theater at 212-475-1449.
ABOUT JOHN AMOS
A veteran actor Amos' illustrious career spans over four decades, with an Emmy-nomination for his portrayal of the adult Kunta Kinte in Alex Haley's ground-breaking mini-series Roots. He's played leading roles in many television shows, including Good Times, The Mary Tyler Moore Show, Bonanza: The Next Generation, The West Wing, All About The Anderson's, The District, In The House, and Men In Trees. He recently guest starred on Two And A Half Men, Royal Pains and Lie To Me.
Film credits include Die Hard 2: Die Harder, with Bruce Willis, Lock-Up, with Sylvester Stallone and Coming to America, with Eddie Murphy. His other film credits include Disney's The World's Greatest Athlete, American Flyers, Let's Do it Again, Vanishing Point and The Beast Master. Amos recently had a co-starring role in the soon to be released film Zombie Hamlet.
Mr. Amos won an NAACP award for his performance in a play called Split Second in Los Angeles and has appeared on Broadway in the play Tough to Get Help. His work on stage ranges from performing in plays by Shakespeare to plays by Eugene O'Neill and August Wilson. He was nominated for Best Actor by the Los Angeles Drama Critics for his role in Norman, Is that You?, which marked his debut as a stage actor. He is the author of a critically acclaimed one-man play called Halley's Comet.
###