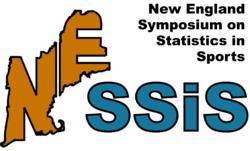 Boston, MA (PRWEB) September 08, 2011
The Harvard University Science Center will host the 2011 conference of the New England Symposium on Statistics in Sports (NESSIS). The conference brings together statisticians and quantitative analysts to discuss common problems of interest in statistical modeling and the analysis of sports data.
The symposium will be held Sept. 24 from 9 am to 6 pm in Lecture Hall C, Harvard University Science Center, 1 Oxford Street, Cambridge. It features talks, posters and a panel discussion. Presentations will include presentations on a variety of topics including measuring individual player ability in team sports, rating team abilities in sports such as tennis and NCAA football, ascertaining whether seed placement in elimination brackets affects tournament outcomes, and determining the likelihood of cheating through statistical models. Speakers include academic statisticians from colleges and universities in the U.S., England and Australia.
The following presentations have been confirmed at this time: Scouting with and without statistical information by J. P. Ricciardi, New York Mets; Cheating in Football by Chris Stride, University of Scheffield; Rating Table Tennis Players by David Marcus of Ratings Central; Seed distributions for NCAA's men's basketball championships by Sheldon H. Jacobson, University of Illinois; The value of teamwork by James Piette, Krossover Intelligence Inc.; Improving NHL player ability ratings by Samuel Ventura and Andrew Thomas, Carnegie Mellon University; Tactical analysis in soccer using Markov Chains by Sarah Rudd, On Football Research and Consulting; and Ratings using score histories by Todd L. Graves, Los Alamos National Laboratories.
The panel discussion will focus on NBA basketball analytics, and will include Sam Hinkie, executive VP of basketball operations, the Houston Rockets; Roland Beech, director of basketball analytics, the Dallas Mavericks; and Kenny Atkinson, assistant coach of the New York Knicks. The proceedings of the symposium will be published in a special issue of the ASA's Journal of Quantitative Analysis in Sports (JQAS).
The NESSIS conference is sponsored by the Boston Chapter of the American Statistical Association (ASA), the Section on Statistics in Sports of the ASA, and Harvard University, as well as industry sponsors ESPN, StatDNA, SmartOdds, Salford Systems, and Sports Data Hub. For more information about NESSIS and the conference, visit http://www.nessis.org, or contact Mark Glickman (glickman(at)fas.harvard(dot)edu) at 781-687-2875, or Scott Evans (evans(at)sdac.harvard(dot)edu) at 617-432-2998.
About the American Statistical Association
Headquartered in Alexandria, Virginia, the American Statistical Association is the world's largest community of statisticians and the second oldest continuously operating professional society in the United States. For 170 years, the ASA has supported excellence in the development, application, and dissemination of statistical science through meetings, publications, membership services, education, accreditation, and advocacy. Its members serve in industry, government, and academia in more than 90 countries, advancing research and promoting sound statistical practice to inform public policy and improve human welfare. For additional information about the American Statistical Association, please visit the ASA web site at http://www.amstat.org or call 703.684.1221.
For more information:
Rosanne Desmone
703.302.1861 (direct)
703.946.3820 (mobile)
Rosanne (at) amstat (dot) org
###