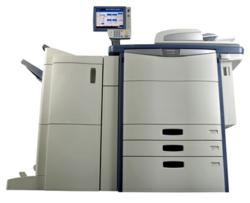 We're proud to announce the integration of PaperCut MF into our managed document services software portfolio
Irvine, Calif. (PRWEB) September 07, 2011
Toshiba America Business Solutions Inc. (TABS) today announced the introduction of PaperCut MF™ (multi-function), a rules-based managed print services (MPS) solution that helps businesses track, monitor and control print, copy, scan and fax behaviors, reducing waste and overall operating expenses.
PaperCut MF interfaces directly with Toshiba's e-STUDIO™ MFPs to track off-the-glass functions including copy, scan and fax usage and provide secure print release capabilities. It also utilizes the Embedded Web Browser feature, enabling users to release print jobs at any available MFP on the network for added convenience and improved productivity. This server-based, "onboard" MFP solution provides not only an intuitive end-user experience, but also enables single sign-on to both the MFP and PaperCut via the control panel or one of many supported card readers.
"We're proud to announce the integration of PaperCut MF into our managed document services software portfolio," said Bill Melo, vice president, Marketing, Services and Solutions, TABS. "We're seeing increasing demand for rules-based solutions – particularly given the value they provide in reducing a company's environmental footprint and operating expenses. I have no doubt Toshiba dealers will have great success selling this solution. It incorporates unique desktop widgets so individuals can see their own personal impact, which we know is key in changing end-user behavior."
PaperCut MF is easily configured and is suitable for locations of any size. Seamlessly integrated into Toshiba e-STUDIO MFPs, PaperCut MF software offers the following key attributes:

Web-Based Administration – PaperCut MF provides "out of the box" browser-based administration access from any network location enabling centralized management of every end-user and device.
On-Board Design – This approach provides access to the PaperCut server directly from the front panel of Toshiba e-BRIDGE MFPs. This enables Active Directory Single Sign-on – which means that users can conveniently authenticate just once to use both PaperCut and the MFP.
"Find Me" Printing – "Find-Me" enables end-users to print to a global virtual queue. With this secure print release function, print jobs are paused and only printed when the end-user releases the job to any compatible MFP or printer on the network, improving document security and convenience, reducing administrative costs and minimizing waste.
Driverless Web and Mobile Printing – PaperCut MF's Web Print allows wireless and driverless printing from any mobile device, such as laptops and wireless devices. When combined with PaperCut's "Find Me" printing feature, end users can securely release a print job from any supporting MFP or printer.
Watermarking and Digital Signatures – This security feature allows end-users to automatically add a username or other metadata to the bottom of every page to indicate the document owner. This feature may include a unique digital signature that will allow businesses to track document origin to enhance security and encourage responsible printing.
Tracking and Monitoring – Administrators can track total copy, print, scan, and fax usage of individual users, departments and by client codes across the entire fleet for billing or chargeback. Detailed reports also enable administrators to
analyze fleet usage in various ways.
Desktop Widgets – These widgets allow end-users to see the impact their printing behaviors have from both a cost and environmental perspective, which is key in changing behaviors and creating significant savings.
PaperCut will be available in three versions as described below.
Commercial – This is the primary solution for corporate users which includes support for Toshiba e-STUDIO MFPs as well as other select printers.
Educational – This version has a special configuration designed for the education market.
Professional – This version is similar to the commercial version with the exception that it features an advanced client billing pop-up to facilitate simple and accurate out-of-pocket cost tracking for client/department charge back.
PaperCut is available through Toshiba's nationwide network of authorized dealers. To find an authorized Toshiba dealer nearest you, or for more information on Toshiba's document management products and solutions, please visit http://www.copiers.toshiba.com, or call (800) GO-TOSHIBA.
About Toshiba America Business Solutions Inc.
Toshiba America Business Solutions Inc. (TABS) is an independent operating company of Toshiba Corporation, the seventh largest electronics/electrical equipment company in the world. TABS is a leading provider of managed print and professional services (MPS and PS), and manages product planning, marketing, sales, service, support and distribution of copiers, facsimiles, multifunction printing products, network controllers, and toner products throughout the United States, Mexico, Central and South America and the Caribbean. MPS and PS are strategic focus areas for the company, which first developed and began marketing the Encompass™ MPS program in 2003.
Headquartered in Irvine, Calif., TABS has five divisions: the Electronic Imaging Division; the Toner Products Division; the Document Solutions Engineering Division; the International Division; and Toshiba Business Solutions (TBS), a wholly-owned subsidiary corporation of TABS, that operates a network of wholly-owned office equipment dealers throughout the United States.
Honored with the Channel's Choice top award for "Superior Performance" twelve times by the Business Technology Association (BTA), Toshiba's entire product line, customer support and marketing distribution policies are markers for the industry.
###