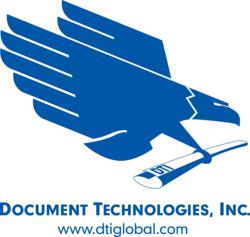 Atlanta, GA (PRWEB) September 07, 2011
Document Technologies, Inc. (DTI), the nation's largest private independent provider of legal support services and document outsourcing, announces its acquisition of selected assets of Esquire Litigation Solutions from Alexander Gallo Holdings, LLC. The Southern California-based division of Esquire Solutions provides Electronically Stored Information (ESI) management, electronic discovery, forensics, hosted review, project management and document management technology and services. DTI's acquisition includes the assets of Esquire Solution's San Diego and Costa Mesa, CA offices.
The addition of Esquire Litigation Solutions' team further expands DTI's national footprint to better serve its law firm and corporate legal department clients in Southern California. With the acquisition by DTI, legal professionals of Esquire Litigation Solutions are now part of a top tier discovery services provider with the ability to offer local clients the strength, resources, stability and technology infrastructure of a leading national discovery provider. Esquire Litigation Solutions clients will benefit from DTI's third-party e-discovery tools and the ability of DTI to provide tailored solutions for each unique project. Leading discovery technology applications, including Nuix, Clearwell, IPRO, Relativity and iCONECT, enable DTI to focus on quality service and allow clients to leverage the industry's best technologies.
"Esquire Litigation Solutions and its team possess an excellent reputation for delivering high quality service and expert project management, making their addition a great fit within the DTI family," said Document Technologies, Inc. CEO John Davenport, Jr. "This acquisition expands the scale of our operations in Southern California and Esquire clients will immediately benefit from our 'best-in-breed' technology philosophy and financial stability."
Terms of the deal were not disclosed.
About DTI
Document Technologies, Inc. (DTI) is the nation's largest independent provider of facilities management and discovery solutions, servicing clients through offices in more than 20 markets across the U.S. Headquartered in Atlanta, DTI delivers end-to-end electronic discovery solutions, including pre-litigation readiness consulting, forensics, data acquisition, processing, and an array of hosting platforms to meet a variety of litigation support needs. DTI clients include both top law firms and Fortune 500 corporations nationwide. For more information, visit http://www.DTIglobal.com.
Contact
Scott Dermer
Document Technologies, Inc.
E-mail: sdermer(at)dtiglobal(dot)com
Phone: (720) 904-1250
###