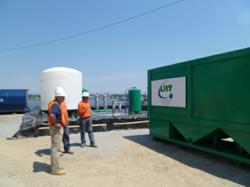 New Bedford is only one city, among thousands of other locations in the US, which used Manufactured Gas Plants (MGP) until the 1950s.
Ocala, FL (PRWEB) September 27, 2011
ESD Waste2Water, Inc. is proud to have partnered with a major utility provider on an environmental cleanup project involving dredging contaminated silt from a small section of New Bedford Harbor, Massachusetts. The harbor is contaminated with a byproduct consisting primarily of coal tar. New Bedford is only one city, among thousands of other locations in the US, which used Manufactured Gas Plants (MGP) in the distant past. From the late 1800's to about the 1950's, all natural gas used for heating in the Northeast came from these plants. Coal was essentially "cooked" and the off-gas was used as a natural gas. Due to the use of today's form of natural gas, which is extracted from deep wells, thousands of MGP plants have closed since the 1970's. Unfortunately, most have been left with environmental issues.
ESD Waste2Water developed a customized Tube Settler Clarifier which is a component of the system treating the decant water from the dredged sludge and silt. Tube settlers use multiple tubular channels, sloped at a 60°angle, to form an increased effective settling area. The Tube Settler Clarifier is used for industrial and municipal wastewater and water treatment for removal of suspended solids by gravity separation.
ESD, Waste2Water, Inc. is a worldwide leader in industrial wastewater recycling, wash water treatment and environmental remediation. As an international leader, Waste2Water is dedicated to assisting its customers maintain and exceed the international environmental quality standards.
The impacts of population growth, agriculture and industrial demand are putting increasing stress on the world's critical ecological system. ESD is committed to the resource and development of new and innovative techniques of remediation. Remediation deals with the removal of pollution or contaminants from environmental media such as soil, groundwater, sediment, or surface water for the general protection of human health and the environment. Remediation is generally subject to an array of regulatory requirements, and also can be based on assessments of human health and ecological risks where no legislated standards exist or where standards are advisory.
ESD designs, manufactures, installs and services environmental protection and recovery systems, such as remediation equipment, for clients across the United States, Canada, Europe, South America and Australia. ESD Waste2Water leads the industry with cutting-edge technology and innovative, low-maintenance designs, backed by superior customer service.
ESD Waste2Water, Inc. is headquartered in a manufacturing and assembly facility in Ocala, Florida. ESD has the expertise and infrastructure to produce equipment for all environmental remediation applications. They also specialize in providing many other environmental solutions such as stationary and portable equipment wash rack stations and other wash water recycling systems for a wide range of customers all over the world. For more information, visit Waste2Water.com.
# # #