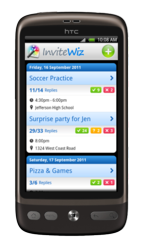 "My mind has been buzzing about the wide applications for this app. I see it being widely used and adapted both in social and business circles." -- androidsocialmedia.com
(PRWEB) September 09, 2011
Mobile application developer Gecko Interactive is pleased to announce the release of InviteWiz 2.0, a major update to its highly-rated Android app that specializes in invitation and event management via SMS (text message).
The new release adds the ability to upgrade to InviteWiz PRO, a premium version that removes advertising and unlocks additional features, including reusable invite templates to enable rapid creation of invites for similar or recurring events, and a customizable response code dictionary for smarter reply handling. Upgrading is performed via an in-app purchase rather than a separate download.
Another feature recently added is the ability to fully customize generated message content. This effectively adds multi-langauge support to InviteWiz messaging, as users can now tailor invite content to their language of choice.
Intended uses for the application include organising parties, sports events, club nights, catching up with friends and even business meetings.
Launched on the Android Market in March 2011, InviteWiz has been well received by users. Seattle-based club promoter, Daevid Vincent, commented "One of the main reasons I hadn't switched to Android from PalmOS was because of a lack of any good mass/group SMS applications. InviteWiz took the concept to an entirely new level. Nothing else even compares IMHO. As a club promoter, the ability to tally replies from those who are attending a given night saves me the hassle of manually keeping track of that data. And the use of the customized expansion tokens has increased the number of replies significantly. People don't feel it's a mass 'spam' when it's personalized. These two features alone put InviteWiz miles ahead of anything out on the market."
In commenting on the reasons for developing InviteWiz, Stephen Chell, owner and founder of Gecko Interactive, stated "Despite the many social networking and messaging services available today, I didn't see anything that delivered a polished user experience for organising group events via text message. The problem with many social networking services is that invitations to events can only be sent to recipients who are also members of the service, thereby limiting reach. And while there are general purpose messaging apps that support group texting, such apps are generally not well suited to managing invitations because they typically don't support reply tallying, making it difficult to keep track of which recipients have accepted, declined or not replied yet."
"To address these issues we developed InviteWiz. SMS was chosen as the delivery method to maximize reach. Recipients do not require the app or even a smartphone. Invites can be sent to any phone or device capable of receiving text messages. Texting is also fast, making it ideal for events that need to be organized at short notice. A key feature of InviteWiz that is lacking in other group texting apps is that all replies that relate to a particular event are visible on one screen, grouped by recipient status (yes, no, maybe). Recipients who have not replied are grouped together, making follow-up easy."
Other features of the application include custom contact groups, flexible message generation and customization options, and sending updated invitations when event details change. In addition to automated reply tracking from incoming text messages, replies can be manually set when a recipient replies via voice instead of text.
For more information about Gecko Interactive and InviteWiz, visit http://www.geckointeractive.com.
About Gecko Interactive
Gecko Interactive Limited is a New Zealand-based company that develops innovative software for mobile devices. The company's first product, InviteWiz, is a messaging application for the Android platform that specialises in sending and managing invitations to group events via text message.
###