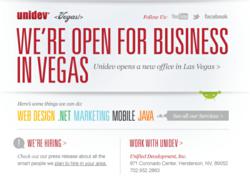 Nevada passionately supports this growing technology industry
Las Vegas, NV (PRWEB) September 08, 2011
LINQ360 Innovation Center, Powered by Microsoft, is adding another impressive technology partner to its roster: Unidev and its web marketing division, The Net Impact. Unidev is the latest prominent technology-centered business to join the ranks in the nation's first-of-its-kind hospitality technology center.
"We chose Las Vegas for Unidev's regional office because Nevada passionately supports this growing technology industry," said Greg Alexander, owner and chief executive officer of Unidev and The Net Impact. "At Unidev, we pride ourselves in having the most experienced .NET and Java developers in the field, and we came to Las Vegas to expand our reach for both hiring additional top notch developers and developing new client relationships. We feel confident that our involvement with LINQ360 will help us to attract both."
The launch of Unidev's Las Vegas office marks another positive shift in the economic diversification front and is a prime example of new businesses that will hire local people. Unidev will initially hire 35 software developers and web designers with future goals to hire over 100 skilled professional employees in the area.
Both Microsoft Partners, Unidev joins LINQ360 with more than 20 years of software development experience and a client roster that covers a wide range of companies and industries, from international retail chains to small start-up businesses. With highly sophisticated Java and .NET development teams, Unidev offers custom software development solutions for enterprise, small business and increasingly important mobile development.
Introduced to the center through the Nevada Development Authority, Unidev and LINQ360 look forward to collaborating with each other and with other LINQ360 members. LINQ360 is a unique network of technology companies that serve the retail and hospitality industry. Scott Garrison, LINQ360 president, started the innovation center to facilitate collaboration among thought-leaders from all sectors of the global technology market, Garrison believes this type of collaboration leads to the truly integrated solutions that benefit world-class brands. This alliance focuses on four cornerstones: hospitality and technology members, innovation incubators, institutional educational programs, and industry development organizations.
LINQ360's on-location partners include Microsoft, SuiteLinq, Cenium, Symon, Red Rock Software, Alcatel-Lucent, HP, Nevada Development Authority, Crestron, Hardly Square, MiCamp, Levy Productions, IBoxfilms, Video River Networks, Rain Maker, Inn Link, Summit Partners, and RiteWire.
"Adding Unidev to the group of LINQ360 partners really fills a need in the Innovation Center," said Garrison. "They bring 'in demand' knowledge and skills that allow us to take our projects to the next level. We can't wait to build and collaborate with their team."
For updates on Unidev's new office space and job postings follow @Unidev on Twitter, "like" us on Facebook at http://www.facebook.com/unidev or visit http://www.unidev.com.
About Unidev®
Unified Development, Inc. (Unidev) is a diversified information technology company, focused on the application of technology to business. A leader in custom development, Unidev has a long history of successfully meeting the customers' needs with proven, reliable and cost-effective solutions. Unidev provides productivity applications, custom software development and technology consulting services to both business and government. For more information on Unidev, please visit http://www.unidev.com or call 702-952-2853.
About The Net Impact®
The Net Impact, which offers full-service Internet marketing and web design, is a division of Unidev®. Since 1997, The Net Impact has been a web development leader, empowering clients with highly creative search engine friendly websites. Professional services encompass search engine optimization and Internet marketing solutions, Internet strategy development, training and seminars, social media marketing and design, and web design and development. For more information on The Net Impact, please visit http://www.thenetimpact.com or call 636-532-4424.
About LINQ360®
LINQ360 is a provider of fully integrated innovative solutions for the hospitality and gaming industry. The company is located in Las Vegas and led by a group of senior executives and recognized industry experts offering a full host of products and consulting services for today's hotels, resorts and casinos. LINQ360 represents key partner products and services through partnership and reseller agreements. LINQ360 is showcasing a live, fully integrated, and working hotel environment in its Las Vegas Showroom / Innovation Center, Powered by Microsoft. For more information on LINQ360, visit http://www.LINQ360.com or call 702-505-9314.
###