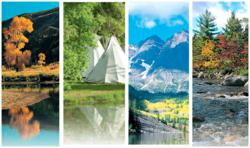 The General Allotment Act of 1887 (Dawes) led to 90 million acres of Indian land (nearly two-thirds of the total Indian land base) being taken out of Indian ownership and control.
Roscoe, Montana (PRWEB) September 08, 2011
The US Department of the Treasury's Community Development Financial Institutions Fund (CDFI Fund) has announced a $725,000 grant award to ILCC, a Montana-based and Indian-owned leader in tribal land financing and recovery.
Director Donna J. Gambrell of the CDFI Fund recently announced awards totaling $11,847,579 for 35 Native Community Development Financial Institutions (Native CDFIs). The CDFI Fund's Native American CDFI Assistance (NACA) program provides technical and financial assistance to Native American tribes, tribal entities and other CDFIs serving Native American, Alaska Native and Native Hawaiian communities.
NACA awards assist financial institutions which have a primary mission of serving Native communities to increase their lending services and financial products, as well as to build their own internal capacity to serve their target markets. "The awards clearly demonstrate the successful growth of the Native CDFI movement across the country," said Gambrell.
ILCC attained official Native CDFI designation in April 2011.
"We are delighted to receive both federal designation and this financial assistance in such quick succession," said Gerald Sherman (Oglala Lakota), ILCC's President. "It seems fitting to receive this award as ILCC scales up its fund raising and loan packaging for tribal land recovery in 2012. That is the 125th anniversary of the 1877 Dawes Act that resulted in the loss and disenfranchisement of so much of our tribal territory," added Sherman.
Organizations awarded NACA grants are headquartered in 17 states and serve mostly rural communities. ILCC, created in 2005 by the Indian Land Tenure Foundation (ILTF) of Little Canada, MN and Native American Community Development Corporation (NACDC) of Browning, MT. With operational headquarters near Red Lodge MT, ILCC was the only Montana-based CDFI to receive NACA funding in this round.
Montana's senior U.S. Senator Max Baucus, a long-time supporter of Community Development Financial Institutions, praised the role of ILCC and Native CDFIs in helping tribes and tribal entities.
"We must stay laser-focused on good-paying jobs across Montana and throughout Indian Country. This means working to access every tool at our disposal to help businesses access the resources they need to create new good-paying jobs. I applaud ILCC for attracting this investment which will provide access to credit, capital and financial services to Native communities in Montana and beyond," said Baucus.
ILCC received the highest level of financial award available in the fiscal year 2011 round of the NACA Program. The CDFI Fund reviewed 88 applications and funded 35 groups this round. 11 Native CDFIs received the highest tier award ($725,000) including ILCC, Cherokee Nation Economic Development Trust Authority, Inc. (OK), Citizen Potawatomi Community Development Corporation (OK), Council for Native Hawaiian Advancement (HI), The Sequoyah Fund, Inc. (NC), White Earth Investment Initiative (MN), Wind River Development Fund (WY), Northern Shores Loan Fund, Inc. (MI), Four Directions Development Corporation (ME), Cook Inlet Lending Center, Inc. (AK), and Four Bands Community Fund, Inc. (SD).
In 2011, ILCC plans to raise a $4 million investment fund from mainly tribal sources towards building a $100 million investment fund for Indian Country over the next ten years. With a solid track record of lending to tribes (over $5 million since 2007), loan performance, and repayment, ILCC is uniquely situated to deploy capital on behalf of tribes.
As a CDFI, ILCC provides loans at lower cost and with fewer lending barriers than traditional mainstream financial institutions. This allows tribal borrowers to act quickly and retain greater control and flexibility in the financing, acquisition and management of tribal lands. ILCC provides another benefit to Indian Country: tribes investing in ILCC can earn a return on their social investment – in other words 'do good while doing well.'
"Tribal lending for land recovery and acquisition represents sound financial management and sustainable development for Indian Country," stated Sherman.
About ILCC and its Founding Partners
ILCC was created as a collaborative effort between ILTF and NACDC to bridge the gap in lending to tribes and to facilitate the acquisition of Indian lands for social, cultural and economic purposes. As partners of ILCC, ILTF and NACDC provide technical support and grants to tribes for the development of strategic land acquisition plans. ILTF is a national, community-based organization focused on American Indian land recovery and management. It works to promote education, increase cultural awareness, create economic opportunity, and reform the legal and administrative systems that prevent Indian people from owning and controlling reservation lands. NACDC is the nonprofit affiliate of the Native American Bank. NACDC's mission is to remove the barriers that exist in Indian Country that prohibit the flow of capital and credit. NACDC addresses critical needs in Native communities related to growth of family assets and sustainable economic development. NACDC provides financing, technical support and training to Native communities and tribal members for housing, economic development and land recovery. Elouise Cobell (Blackfeet) serves as NACDC's Executive Director.
# # #