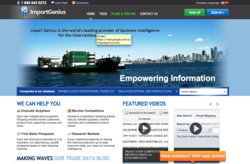 "It's going to be fun helping all these researchers with their projects and seeing what kind of cool research ideas and models they develop. It kind of makes me wish I were back in school again!"
Edmond, OK (PRWEB) September 09, 2011
Central Oklahoma may not be the first place that comes to mind when you think about centers of global trade. But thanks to a new partnership with ImportGenius.com, students and faculty at the University of Central Oklahoma will be thrust into the middle of a tidal wave of global trade data.
Starting this semester, researchers at the school will have free access to the world's premiere database of shipping manifests for use in class projects, research papers and start-up importing ventures. The Import Genius database will let UCO students and faculty look up American companies to find out what they're importing and the names of their suppliers overseas.
Ideas for research to emerge from the partnership include an analysis of the effects of external shocks like the the financial crisis or this spring's Japanese earthquake on the supply chains across different industries. Researchers may also investigate the correlation between a company's importing activities and its stock price, an area of investigation that could prove quite lucrative if a predictive model could be built.
Although Import Genius is not charging the university for access to its valuable dataset of over 58 million shipping manifests, the company expects to benefit from some of the ideas generated through the partnership.
"We're a small company, with only about 35 employees worldwide," says the company's co-founder Ryan Petersen. "There's no way we can come up with all the best uses of our data on our own, much do all the hard work that goes into executing the research projects around it."
Students and faculty affiliated with the University of Central Oklahoma can access the international trade database through the school's library. Simply stop by and ask a librarian to help you log onto the company's Web site.
"It's going to be fun helping all these researchers with their projects and seeing what kind of cool research ideas and models they develop. It kind of makes me wish I were back in school again!" says Mr. Petersen.
About ImportGenius.com
ImportGenius.com enables global trade through technology. The firm's database of shipping manifests gives companies big and small powerful tools for understanding the shipping activities of competitors, suppliers and would-be suppliers. The company also offers freight services to businesses engaged in global trade, helping them save money on every shipment.
###