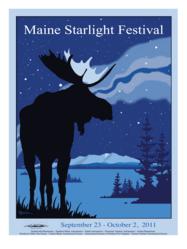 Maine Has More Stars
Tremont, Maine (PRWEB) September 12, 2011
Maine has more stars than any state east of the Mississippi according to the "World Wide Atlas of Night Sky Brightness." As a result, Maine is increasingly recognized as one of the last places in the U.S. to "still have stars". The state's investments in the capabilities of the Island Astronomy Institute has enabled Maine to emerge as a national leader in the promotion and protection of its newly recognized natural resource.
The statewide celebration of this cultural resource features star parties, a night sky inspired sing-a-long, solar observing, university planetarium and observatory shows, lectures by astronomers and other educators, a telescope clinic, interactive demonstrations and workshops, artistic works "capturing the inspiration of Maine's night skies" including a screening of the Maine-inspired documentary film "The City Dark" and a discussion with the Director, Ian Cheney, nature programs for children, an educational light display and promotion, a special family program at the Challenger Learning Center of Maine, plus more events and updates being added daily.
According to Peter Lord, the Institute's founder and executive director, "The response we've received to our work, and to the creation of the Maine Starlight Festival has been remarkably positive. People in Maine know first hand that this is a special place. With their own eyes ... from their own backyards, people all across Maine can see what is easily the largest, most inspiring connection to the natural world. They live every day with the original source and inspiration for science itself."
"What's taking place across Maine this Fall is a dramatic expansion of our original work in and around Acadia National Park. All of this activity is essential if we are to advance onto the new ground of making a measurable difference" continues Lord, an experienced Aerospace Systems Engineer, and member of the Illuminating Engineering Society of North America. "People forget how far light travels. With our new equipment we can measure sky glow coming from as far away as 60 miles in all directions. That means getting communities all across the state working together is essential for Maine, if it wants is to hang on to what it has."
Many of the festival's events have an obvious educational focus, such as "The Birth and Death of Stars" with images of star formation and others captured by the Hubble Space Telescope, and the interactive astrolabe lecture. There will also be a "Hands On Innovation" talk by Maine's own NASA design competition winner, Peter Homer and a lecture on the "Biology of Light" to further connect people even more directly with science. Art inspired by Maine's night sky is featured on the festival's website and at local galleries and businesses.
(For the complete schedule and more information visit http://www.starlightfestival.org )
Since 2004, the Island Astronomy Institute has been supported by NASA, the Maine Technology Institute, the Maine Department of Tourism, and has worked with colleges, universities, libraries, schools and conservation and civic groups. A National Leader in Night Sky Protection. "To found the Maine Starlight Festival we reached out and partnered with every astronomy club in the state in order to expand the measurement, promotional and protection work we've done in and around the communities surrounding Acadia National Park. The festival reconnects us to the Institute's original foundation and spirit as we share our work with entirely new communities all across the state. In many ways it has brought us back to our roots as a community-focused nonprofit and it feels good ... really good." said Lord.
"And yes we have a hidden agenda" admitted Lord. "While everyone is having a great time and no one is looking, we will be providing homeowners and community members with exactly the same night sky quality management information as a national park superintendent. We will be empowering and engaging them to think like "citizen scientists" at the grassroots level, to protect something they care about for their own benefit, not just because someone in the government told them they had to." The Institute's efforts are beginning to attract national attention - most recently by MIT's National Science Festival Alliance.
About The Island Astronomy Institute:
The mission of the 501(c)3 Institute is "to provide programs, facilities, and resources to schools, teachers, and the public, to promote astronomy as a stimulating educational and cultural activity for people of all ages." It was founded in 2004 with support from the NASA
funded Maine Space Grant Consortium, to meet the needs of local educators for high quality space science instruction. The Institute's current efforts are focused on state-of-the-art light pollution management and educational programs, made possible by the transfer of government developed technology into the private sector. The transfer created the nation's first independent professional measurement service.
###