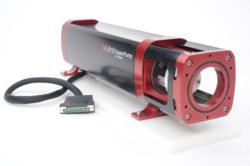 The versatility and unmatched performance of the ViVitro SuperPump has served the industry well for over 25 years, but we wanted to make it even better
Victoria, B.C. (PRWEB) September 13, 2011
ViVitro Labs Inc., a global provider of cardiovascular device testing equipment and laboratory services, announces the release of the next generation of their legendary SuperPump, the SuperPump AR. Assisted by their affiliate company, Starfish Medical Inc., the ViVitro SuperPump, the world's most widely used and accurate physiological mimicking positive displacement pump, has been redesigned and enhanced with the latest technology available. The ViVitro SuperPump AR is the first in a series of advanced prosthetic heart valve and other cardiovascular device testing equipment being developed by ViVitro.
Well known for its versatility, the ViVitro SuperPump is available as a stand-alone product and is also a standard component of the ViVitro Pulse Duplicator; the most widely used and recognized heart simulator in the world. Used for heart valve function testers, quasi real-time heart valve fatigue testers, simulated use testers and as a cardiac flow driver for various peripheral device testers and research investigations, the ViVitro SuperPump is a crucial fixture in leading cardiovascular research and development labs around the world.
The new ViVitro SuperPump AR promises to occupy a similar position of importance in modern labs, thanks to its technologically advanced features. A powerful microprocessor and custom PCB manage a plethora of data and operating commands, providing the user with greater control over its operation, while a real-time status indicator of the SuperPump's operation is conveniently displayed on a built-in LCD screen. Simple selection of internal or external waveform control makes the system the only self-contained stand alone or externally operated system.
"The versatility and unmatched performance of the ViVitro SuperPump has served the industry well for over 25 years, but we wanted to make it even better," said David Mester, General Manager of ViVitro Labs. "It's hard to appreciate how difficult it is for a mechanical pump to mimic physiological cardiovascular flow. The pumping mechanism used to generate a flow can be easily detected by sensitive flow and pressure transducer if not done correctly, which is why the ViVitro SuperPump has been so widely accepted as the industry standard. We are proud to show off our new ViVitro SuperPump. Its versatility, capability, and performance will remain unmatched for decades to come."
The first in a series of advanced research models of products that ViVitro will be offering, the SuperPump AR is equipped with precision digital control providing unsurpassed accuracy with micron positioning. The SuperPump AR is maintenance free, quiet and provides a degree of reliability otherwise only found in industrial grade applications. The controller provides standalone or input waveform control, with the capability for storage of multiple waveforms via a convenient USB port. The SuperPump AR is operated by the ViVitro ViViGen software application, which allows the user to create new waveforms or quickly modify the ViVitro standard cardiac waveforms, which come preloaded. Compatible with the latest 64 bit Windows 7 as well as earlier versions of Windows, ViVitro ViVigen software combines the power and flexibility for customized testing with the ease of use that is the hallmark of modern software applications.
About ViVitro Labs
ViVitro Labs Inc. offers industry leading prosthetic heart valve test equipment and laboratory testing, consulting and engineering services. For over 25 years, ViVitro has been known as a trusted source of quality devices and services that empower our clients to carry out world-leading research, develop innovative products, and demonstrate regulatory compliance.
For more information, please contact ViVitro Labs:
info(at)vivitrolabs(dot)com
1-250-388-3531
http://www.vivtrolabs.com
Please enquire about local distribution channels for ViVitro equipment in China.
###