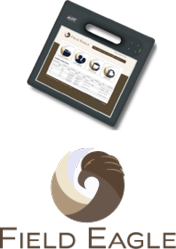 Field Eagle enabled us to conduct faster, more accurate, inspections!
St. John's, Newfoundland (PRWEB) September 13, 2011
For any business that requires regular inventory checks, audits, or inspections, the paperwork and data entry can often be tedious and very costly. Whether an organization is large or small, it is commonplace for all this to be done with pen and paper, and perhaps a digital camera, necessitating the need to enter the information 'back at the office' after the onsite work is done. Field Eagle changes the way field workers work by enabling all data collection to be done with one device right onsite.
What about customization? What good is an application that is fixed and rigid? Why should a company alter its method of doing things to fit a program that is designed to streamline their operations? It shouldn't and the minds at Konverge® understood this when they set out to create Field Eagle.
Completely customizable, the application can be tailored to any business' specific needs. If forms and reports must be maintained in a certain manner, Field Eagle makes it simple to do so. If notes and photos must be entered throughout an inspection report, Field Eagle can do it.
Of course, promises are one thing. Seeing is believing. Field Eagle will be demonstrated at BOMEX 2011 in St. John's, Newfoundland. Set the date and mark the calendar. September 25-27, 2011. Discover what businesses have been missing with Field Eagle.
About Konverge®
Konverge® is a Microsoft Gold Certified Partner and has been assisting businesses of all sizes improve their productivity since 1994. It's not enough in the modern business age to accept the status quo or be content with the software applications that currently exist. Konverge® moves beyond the ordinary and embraces the extraordinary. Customer satisfaction is Konverge®'s number one priority and because of that, it continues to provide the most exceptional business software application solutions available and they focus their energies on customizable programs for each business.
###