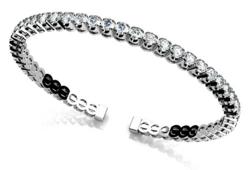 (PRWEB) September 07, 2011
Anjolee, the largest manufacturer of diamond tennis bracelets online, recently added some new flexible bangle bracelets to their diamond bracelet collection. The new designs are style number BB130, BB128 and BB131. A bangle bracelet trend is to pair it with other jewelry or watch or to wear a few of them at a time.
Each of the flexible bangle bracelet designs has a strong wire that runs through the links making it secure and flexible. With a small opening on one end of each of these bangles, it is an accessory that can be easily slipped on the wrist. In order to remove the bracelet, the wearer must stretch both ends of the bangle. These bracelets are safely worn on the wrist due to the design and durability of the setting. Each of the three designs is completely unique.
The first new jewelry item is style number BB130, the 'Princess Cut Flexible Diamond Bangle Bracelet'. A channel setting holds princess cut diamonds in a unique square shaped link design. Expert setting makes this a timeless diamond bracelet that would coordinate with any classic style wardrobe. There are three sizes to choose from including a 3.96, 5.98 and a 7.95 total diamond carat weight.
The second new item is style number BB128 'Curved Prong Flexible Diamond Bangle Bracelet'. Featuring a curved, four prong setting which appears to cascade around each diamond. There are three sizes to choose from; 1.50, 2.47 and 3.00 carats and a choice of gold or platinum metal types. Each flexible bangle comes in a standard 7" length that can be modified by contacting an Anjolee representative.
The third new diamond bangle bracelet design is a great alternative to those that love a classic tennis bracelet but want something a little more distinctive. The style number BB131, 'Classic Four Prong Flexible Diamond Bangle', has a classic look to it, but with a flexible design. Versatility is important; four sizes to choose from including 1.97, 3.02, 4.00 and 5.00 carats.
For more information about these new bangle bracelet styles or diamond tennis bracelets, visit http://www.anjolee.com.
###