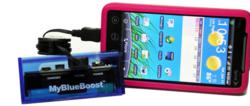 MyBlueBoost powers smart phones anytime, anyplace, anywhere.
Las Vegas, NV (PRWEB) September 14, 2011
Smart Geek Products LLC is pleased to announce the release of MyBlueBoost; a portable, compact battery charger that will typically power a cell phone for 12 to 16 hours. MyBlueBoost isn't just for cell phones. It will also charge devices such as the Nook, PSP, iPods and Zunes. The tiny device is rechargeable and ready whenever a device's battery needs a boost.
MyBlueBoost comes in a protective acrylic blue case and has three connectors: USB A, micro USB and mini USB for charging devices and itself. Measuring only three inches by one inch by one inch, MyBlueBoost fits easily in the user's pocket, purse, or backpack. MyBlueBoost along with the appropriate charging cables that work with the user's device(s) come together in a convenient blue pouch.
A major component of MyBlueBoost is the impressive, energy dense battery it comes with. Smart Geek selected the circular, 18650 lithium-ion cell which has a large capacity and a built-in safety circuit board. In addition to being rechargeable, the battery can be replaced by the user.
MyBlueBoost works with Android, Blackberry, iPhone, as well as many other USB charge-capable devices. There are different versions available so that users can be sure that they are receiving the appropriate retractable cable(s) for their mobile devices. The MyBlueBoost for Androids is priced at $39.95, the Blackberry version is priced at $39.95, and the iPhone version is priced at $44.95. The Universal version, priced at $49.95, comes with an additional 10-in-1 cable.
For more information, visit http://www.smartgeekproducts.com.
About Smart Geek Products
Steve Witzel, product developer and co-owner of Smart Geek Products, has been designing industrial electronic products for use in Broadway Theaters and museums for 15 years. The business grew to include numerous products for industrial use and is now moving into consumer products. Smart Geek Products was started to sell MyBlueBoost.
Mr. Witzel sums up his vision of MyBlueBoost: "My wife, Pam, and I were third in line to buy the new HTC EVO the first day they went on sale. To say I love the phone is an understatement. But, the life of the battery is surprisingly short. We figured that if we felt this way, there were probably many others who felt the same way. We knew there had to be a fix and after many hours and numerous prototypes, MyBlueBoost was born."
Contact:
Steve Witzel
Smart Geek Products LLC
702-254-5185
http://www.smartgeekproducts.com
steve(at)smartgeekproducts(dot)com
# # #