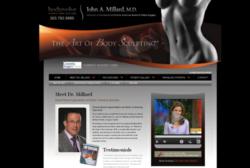 Denver, Colorado (PRWEB) September 13, 2011
The Denver office of Millard Plastic Surgery, global leader in advanced cosmetic procedures and body sculpting techniques, has announced the launch of its new website: millardplasticsurgery.com. Incorporating a host of dynamic features, the new website is set to highlight an incredible user experience, including such features as a rich photo gallery, multimedia content delivery, a patient worldview map, and online Skype consultation services. Additionally, a full service online concierge is available to patients, as well as a personal concierge for traveling patients, including a fully interactive experience of the Denver office, Surgical Center, and the Dubai practice.
Led by the distinguished Dr. John Millard, the Millard Plastic Surgery Center offers the most advanced body contouring solutions available. The new website will allow patients to have an in-depth look at before and after results coupled with the ability to experience an online consultation with built-in Skype capability. As a pioneer in the United States of the advanced body sculpting procedure VASER® Hi Def, Dr. Millard is both a sought after surgeon and teacher. "We have created a website that will establish an amazing user experience, giving patients the ability to have all their questions answered from the comfort of their own home," says a spokesperson for Millard Plastic Surgery Center. "At Millard Plastic Surgery Center, we look at body sculpting as art and seek to deliver that intention through our website."
For more information about procedures and techniques available at Millard Plastic Surgery Center, patients should visit millardplasticsurgery.com. The online consultation capability offers an unmatched user experience, allowing patients personalized attention and the ability to have questions answered immediately.
The team at Millard Plastic Surgery Center is led by John A. Millard, M.D., double-board certified by the American Board of Plastic Surgery (ABPS) and the American Board of Surgery (ABS). Dr. Millard is renowned nationally and internationally for his expertise in cutting-edge liposuction and breast augmentation procedures.
###