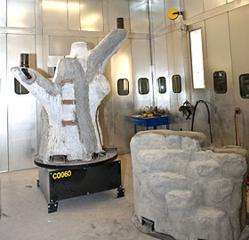 The recent evolution of molded, colored and stained concrete has given playground designers a broader palette of creativity.
Delano, MN (PRWEB) September 08, 2011
Landscape Structures Inc., a Delano, Minn.-based commercial playground equipment manufacturer, has unveiled a one-of-a-kind facility that is exclusively devoted to the design and manufacturing of imaginative playground elements made of precast concrete and glass fiber reinforced concrete (GFRC). The 30,000-square-foot facility will enable Landscape Structures to bring any playground theme or idea to life – from climbable animals and tree houses, to sensory walls and climbing boulders. Moreover, it will sustainably manufacture these elements in a controlled environment where specified levels of temperature and humidity will enable the concrete creations to properly cure for incredible durability.
"As with the transformation from black and white television to color, the recent evolution of molded, colored and stained concrete has given playground designers a broader palette of creativity," said Steve King, cofounder and chairman of Landscape Structures. "We are enjoying a creative renaissance in park and school playground environments, and now we have a world-class facility for cost-effectively transforming a community's creative vision into a beautiful reality."
The greatest appeal of concrete is that it can be sprayed, sculpted and molded into any form to capture and convey any theme. This allows schools and parks to give their playgrounds a meaningful sense of place. In addition, concrete play events from Landscape Structures can function as freestanding playground components or be seamlessly integrated with its traditional playsystems.
Landscape Structures has the only concrete playground production facility in the U.S. where the capabilities of in-house design, engineering, manufacturing and installation – both for traditional playsystems and concrete components – are all vertically integrated within one facility. Each of the playground designers is certified in playground safety under the Certified Playground Safety Inspector (CPSI) program, and the company has structural engineers on staff to ensure the integrity and safety of the play events.
There are many reasons why it is advantageous to build concrete play components in a quality-controlled, ISO 9001/ISO 14001 facility. Here are just a few:

The humidity, air and water temperatures, and concrete batch mixes can be tightly controlled to ensure that the concrete can be properly cured. This is extremely difficult to do in an outdoor environment where wind, temperature and humidity fluctuations are common.
Concrete playground components can be shipped to the site and installed in just one to three days. On the other hand, when custom concrete play components are manufactured and cured outdoors on the playground site, the entire play environment becomes a construction job site for two to three weeks. Safety and vandalism become major concerns.
The Landscape Structures facility uses no acid washes to treat the surface of the concrete, and it reclaims and reuses all wastewater in its indoor facility, which is impossible to achieve outdoors. Schools and parks must be aware of any acid wash runoff that enters the storm water system from an outdoor playground job site because these washes often contain heavy metals such as chromium that can be toxic to fish and wildlife.
Landscape Structures hosts daily tours for landscape architects, park and recreation directors and school playground committees. To schedule your tour or request a copy of Landscape Structures' Concrete Product Specifications for the playground, please email info(at)playlsi(dot)com. For more information about Landscape Structures' concrete operations, please visit playlsi.com/concrete.
Since 1971, Landscape Structures Inc. has been the leading commercial playground equipment manufacturer in the world. The employee-owned company is committed to making the world a better place with active children thriving in leading communities year after year, generation after generation. Landscape Structures encourages outdoor play that develops healthy kids and a sustainable world by creating innovative products that are environmentally responsible. The company's mission from day one has been to enhance children's lives by fostering and creating inspiring play experiences while honoring the environment.
###