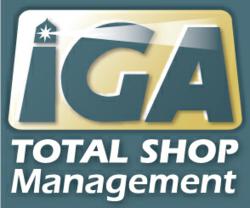 see which vendor has the parts available and compare pricing in real time without having to visit multiple websites or contact vendors via the telephone. We cut down the time we spent looking for parts and pricing from 5 minutes to 5 seconds for each job
Topeka, Kansas (PRWEB) September 08, 2011
The Independent Glass Association (IGA), a trade organization representing the business interests of independently owned automotive glass repair and replacement shops across North America, announced that the launch of its members only suite of Internet-based shop management tools will coincide with Auto Glass Week 2011, held in Memphis, Tennessee, September 15-17, 2011. This new suite, named IGA Total Shop Management, will allow IGA members to provide fast and efficient service to their customers and trading partners.
"IGA members have been at a disadvantage when it comes to technology services allowing them to effectively compete in today's AGRR marketplace," said Alan Epley, IGA President. "We are excited to launch a service for our membership that will improve the overall glass claim process by reducing transaction times while increasing customer satisfaction."
"As a development participant and user of the Total Shop Management platform for the IGA, Rapid Glass has realized significant cost savings and competitive advantages by using the new electronic auto glass tools found in TSM such as Supplier Center, ClaimsVerse and Mobile Edition," said Rick Rosar, Rapid Glass Owner. "For instance, with the click of the mouse in Supplier Center, we are able to see which vendor has the parts available and compare pricing in real time without having to visit multiple websites or contact vendors via the telephone. We cut down the time we spent looking for parts and pricing from 5 minutes to 5 seconds for each job," Rosar concluded.
IGA Total Shop Management is available in many different versions and a Quote Only edition is part of the IGA membership at no additional cost. The Total Shop Management Quote Only edition includes features such as Supplier Center and even includes the Mobile Edition add-on which offers a technician time clock system and the mobile companion version of Supplier Center. Other versions are available to members at modest subscription costs. The IGA is encouraging all members and perspective members to stop by booth #411 at the Auto Glass Week 2011 show for one-on-one, hands on demonstration of the Total Shop Management suite. Other IGA Total Shop Management tools such as integrated member installation tips, VIN tracking and more will also be demonstrated as part of this initial release.
The IGA will be holding a seminar at Auto Glass Week 2011 on Saturday, September 17, 2011 from 8:00am until 8:45am called "Lighting the Way….with Technology", and will be presented by Gary Hart, President and CEO of eDirectGlass. In this seminar, the IGA will be discussing the exciting new technologies found in Total Shop Management that can help retain customers, increase the bottom-line and provide an enhanced ability to offer the best product to your customer. This presentation has the potential to positively change the auto glass replacement and windshield repair industries forever! The IGA Total Shop Management suite of tools could be the best innovation for the industry since the invention of Urethane. All Auto Glass Week 2011 attendees should mark this seminar on their calendar; you won't want to miss this one.
The Independent Glass Association is a not-for-profit trade association representing the business interests of its membership which includes independently owned and operated auto glass repair and replacement shops and industry suppliers operating across the United States, including some international members. The association is headquartered in Topeka, KS. For more information about IGA, please contact Brian Pitman (bpitman(at)centrichq(dot)com) at 785.271.0208, or visit the association's website at http://www.iga.org.
###