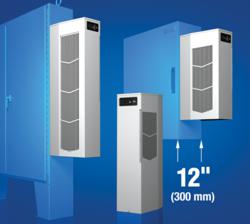 "The NARROW models now provide a solution for low-depth wall-mount applications, further allowing McLean to make specifying the correct model fast and easy."
(PRWEB) September 09, 2011
Pentair Technical Products announces the addition of three NARROW models to their line of McLean SPECTRACOOL™ Air Conditioners. These air conditioners—which offer filterless operation and features designed for superior energy efficiency—deliver critical cooling within enclosures, protecting vital electronics. With the new NARROW models, the line now accommodates an even wider range of indoor and outdoor applications. SPECTRACOOL NARROW models are designed to fit on a 12-in. or 300 mm enclosure, and the units also accommodate wall- and floor-mount cabinet styles. The new low-profile models are fully featured, delivering higher cooling capacity in a smaller footprint. The 43-in. unit provides 11,000 BTU/hr. performance.
The unique beveled design allows for maximum efficiency with minimal airflow, and the specially coated condenser coil resists dust buildup and protects against corrosion. The one-piece cover design facilitates ease of removal for paint customization by the end user, while sealing on the chassis itself maintains ratings after paint, repair, removal and replacement. SPECTRACOOL NARROW units also feature a centrally mounted thermoset that avoids interference with enclosure back panels.
"Our family of SPECTRACOOL Air Conditioners includes a broad range of cooling capacities, power and mounting options," said James Swanson, Product Manager for Pentair Technical Products. "The NARROW models now provide a solution for low-depth wall-mount applications, further allowing McLean to make specifying the correct model fast and easy."
Models—available in 28, 36 and 42-inch sizes—provide 4,000, 6,000, 8,000, and 11,000 BTUs/hr. of cooling and operate on 115, 230 and 400/460 3-phase AC volt power input.
Key features of the family of SPECTRACOOL Indoor and Outdoor Air Conditioners:

Features a rotary compressor to deliver greater energy efficiency
Includes R134a earth-friendly refrigerant; RoHS compliant
Units are UL Type 12/3R/4 rated and are Telcordia GR-487 capable, providing reliable operation
Features lightweight design and built-in hooks on the back of units to facilitate easy installation
Provides corrosion-resistant components to withstand demanding environments
About Pentair Technical Products
Pentair Technical Products, a Pentair global business unit, is the leading provider of worldwide product and service solutions for enclosing, protecting and cooling electrical and electronic systems. Its industry-leading brands—Hoffman®, Schroff®, McLean® Cooling Technology—provide a broad variety of standard, modified and engineered solutions to the commercial, communications, energy, general electronics, industrial, infrastructure, medical, and security and defense markets.
For more information, contact Pentair Technical Products at 2100 Hoffman Way, Anoka, MN 55303 or http://www.mcleancoolingtech.com.
Media Contact: Jaclyn Larson (Next Communications). Phone: 952-934-8220. Email: jaclynl(at)nextcom(dot)com.
###