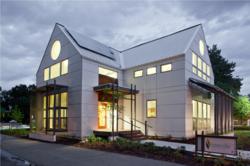 "We're a small business always striving to create a big impact long after our projects are complete," says President Judy Dorsey. "Our goal is to build the capacity of our clients so they can thrive in their journey toward sustainability."
Fort Collins, Colorado (PRWEB) September 08, 2011
Engineering and sustainability consulting firm Brendle Group has reached an historic landmark, celebrating its 15th year in business as a pioneer and champion of sustainability and growing to deliver on over 200 projects nationwide.
For 15 years, Brendle Group has collaborated with leading-edge companies, local governments and utilities, K-12 schools and higher education, and the ski industry to showcase the benefits and business case for sustainability. Its innovative projects have included the nation's first Sustainability Management System for Colorado's Poudre School District, the firm's collaboration on FortZED - an initiative to create one of the world's largest net zero energy districts in an existing community – and its integral role in launching the Colorado Clean Energy Cluster.
"We're a small business always striving to create a big impact long after our projects are complete," says President Judy Dorsey. "Our goal is to build the capacity of our clients so they can thrive in their journey toward sustainability."
From its own award-winning Sustainability Management System and its recent "deep green" renovation of its new offices to the firm's active initiatives to give back to the community, Brendle Group has motivated and inspired sustainability by example. Cumulatively, from small businesses to schools and major cities, the company has identified over $1.6 million in energy savings alone, proving time and again that sustainability can benefit people, profit, and planet - now and into the future.
Brendle Group is an environmentally focused engineering consulting firm that leads by example, inspiring and empowering organizations to make thoughtful choices about the resources they use and helping them create realistic road maps for sustainability.
Founded in Fort Collins, Colorado in 1996, Brendle Group serves as a consultant for clients nationwide, leveraging the strength of what its clients do well with their sincere desire to do more for people, profit, and planet.
# # #