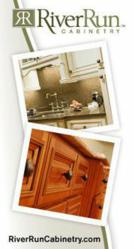 Mt, Crawford, VA (PRWEB) September 09, 2011
RiverRun recently expanded their assembly operations to ensure that orders can be expedited within the fast turn-around time. President Chad McGlaughlin says: "Our goal is to continue to respond to our dealers, helping them compete for time sensitive, value focused customers and take on the big box stores. Our 7-Day Stock Program gives them a better quality product, fast delivery and a price point that lets them compete for big box store customers."
RiverRun Cabinetry is known for offering a premium featured, all-wood product, but in addition, the company prides itself in the care taken during assembly. Every order is inspected by a dedicated quality control team before packing orders into protective cartons. Orders are then shipped directly to the customer's site ready to install so that projects are completed faster.
The new quick response 7-Day Stock Program is designed to support RiverRun Cabinetry's network of over 400 dealers nationwide. The 7-Day Stock Program is available on all RiverRun Cabinetry styles including: Bridgewater, Hampton, Lenox, Shaker and Dalton.
For more information about the new 7-Day Stock Program or to receive a RiverRun Cabinetry brochure, visit riverruncabinetry.com or call 540.438.5973.
RiverRun Cabinetry is located in the beautiful Shenandoah Valley of Virginia. Our founders' mission is to deliver the best value possible in a fully featured cabinet line. This approach, coupled with state of the art inventory control systems and carefully selected styles, has led our dealers to embrace our superior products. The result of this focused hard work is a selling and distributing network that encompasses the entire United States. RiverRun Cabinetry is a subsidiary of Classic Distribution, Inc. The home office is located at 4660 Early Road ● Mt. Crawford, VA 22841 ● 540.438.5973
###