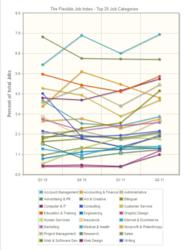 The Flexible Job Index is unique as it tracks professional jobs often missed by other employment and job indexes.
Boulder, CO (PRWEB) September 12, 2011
FlexJobs, the leading source for telecommuting, part-time, freelance, and other flexible jobs, has released their Flexible Job Index for August. For the sixth straight month, the career category with the most available job positions was Medical and Health (8.4%), followed by Education & Training (6.7%), Web & Software Development (5.3%), Sales (5.2%), and Administrative (5%), to round out the top five.
The job categories that gained the most volume of flexible work opportunities from July to August, indicating an increase in hiring these fields, were Graphic Design (42% increase), Engineering (40% increase), and Research (28% increase). The career categories with the biggest drop in volume were Data Entry (36% decrease), Marketing (15% decrease), and Nonprofit & Philanthropy (12% drop).
To provide an overview of what types of industries the job-seekers are interested in, August numbers show that the most sought after flexible positions were in Data Entry (7.6%), followed by Writing (5.9%), Administrative (5%), Editing (4.8%), and Customer Service (4.2%).
"The Flexible Job Index is unique as it tracks professional jobs often missed by other employment and job indexes – namely, part-time, telecommuting, and freelance opportunities," Sara Sutton Fell, CEO of FlexJobs shared. "In addition, all of our jobs offer work flexibility, which is both highly desired by job-seekers and frequently misunderstood by employers. Companies often see flexible/part-time schedules, telecommuting, and freelance jobs as fringe to their key positions and hiring needs, however the variety and depth of the jobs we find can show a very contrary picture."
The diversity of positions are often surprising. Just a few job postings from the past month that are worth noting include:
· A Senior Systems Engineer, who would, "provide concept support for fire control/guidance systems of submarine launched ballistic missile program", with a part-time, flexible schedule
· A Vice President of Strategic Accounts in a full-time telecommuting role for a Fortune 500 company
· An American Sign Language Interpreter for a telecommuting, flexible schedule role
· A Chemistry Acquisitions Assistant with a part-time schedule for a leading university
The ongoing Flexible Job Index demonstrates the growing diversity in the employment market for flexible jobs, and will provide reliable data on top career fields that offer work flexibility. Data includes positions listed on the site directly by employers as well as jobs found by FlexJobs' trained staff of researchers who scour hundreds of online sources, including industry blogs, employer websites, job boards, job feeds, and more. Only professional jobs that can both be confirmed as legitimate and as having some kind of work flexibility (telecommuting, part-time or flexible schedule, or freelance contracts) are included in the job database.
The quarterly Flexible Job Index can be viewed by visiting flexjobs.com/trends. For additional information or for media inquiries, please contact Chelsea Gladden, Chelsea(at)flexjobs(dot)com or 1-866-991-9222 x 4.
About FlexJobs
FlexJobs is the leading online service for hand-screened and professional flexible, part-time, telecommuting, and freelance job listings. FlexJobs gives job-seekers an ad-free way to find legitimate jobs quickly, easily, and safely. A proud member of the Better Business Bureau, FlexJobs skilled research team provides quality job leads in over 50 career categories, ranging from entry-level to executive, freelance to full-time. FlexJobs is a green, carbon-balanced company which is leading the way to the future of work by promoting telecommuting and flexible jobs that allow people to enjoy work and life in environmentally sustainable ways.
To find out more about FlexJobs, visit http://www.FlexJobs.com.
###