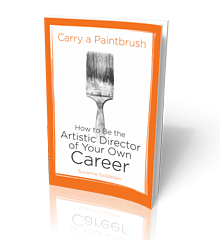 Discovering your own brand is an essential component of differentiating yourself from other hungry job seekers. You need to think like a car company and market yourself to potential employers to get them to buy into the brand that is you.
Boston, Ma (PRWEB) September 08, 2011
Best-selling author, Susanne Goldstein launches a "Get Americans Back to Work Contest". Three lucky winners will receive 3 months of pro-bono one-on-one career coaching with Susanne, author of Carry A Paintbrush: How to Be the Artistic Director of Your Own Career. Her message is clear on her YouTube video; she wants to help "Americans get back to work". Goldstein, like most Americans, is fed up with hearing that the politicians are going to talk about jobs. She believes, "Government was never set up to be the Great Employer. Americans need to stop waiting for Washington to give them permission to get back to work."
Goldstein knows how hard it is to find a job and find your career. With her diverse background in Hollywood movie-making, business strategy, user experience design, teaching, speaking and coaching she has helped countless individuals, teams, companies and audiences define what success means to them, and then move them to achieve it. She knows her methods work, and is willing to prove that, with a little coaching and some road-tested techniques, Americans can get back into the workforce.
While the folks in Washington "dance around the job issues over the next few weeks," she encourages job seekers to enter, "Susanne Goldstein's Get Americans Back To Work Contest." Contestants must be 18 years or older, a U.S. Citizen, and willing to do the hard work it takes to get work.
Entry videos will be considered a contestant's "job application." The three people who can best demonstrate to Susanne that they are ready and willing to do the work required to land a job will be selected to go through her "A Little Tough Love & A Lotta Technique Training" program. "My mentees will learn tools and techniques needed to find job openings, and then demonstrate to America how these methods can be applied to finding work. Even in the most unsteady times, people do get hired. My job is to teach people how to make themselves into a person that people can't wait to hire."
In addition to the one-on-one coaching from Susanne Goldstein, the winners will receive a free copy of Susanne's book Carry a Paintbrush, a free Windows®-based netbook computer with a built in webcam for recording coaching sessions, a new haircut prior to one job interview, and a portfolio folder to carry into meetings. Contest information, entry form and rules can be found on the web site. All entries must be received by 5pm ET on September 25, 2011. Winners' progress will be shared with America on her YouTube channel - Follow Susanne - and her web-site.
To get one step closer to winning Susanne Goldstein's "Get American's Back to Work Contest" visit http://www.SusanneGoldstein.com.
Contact:
Kathy Horn
Roadrunner Talent and Media
914-573-3276
RoadrunnerTalentandMedia(at)gmail(dot)com
###