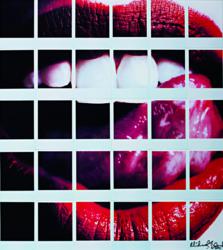 New York, New York (PRWEB) September 08, 2011
Believe Media director - Michael Bernard – who has created some of the sexiest ads on TV for Victoria Secret, among others, brings his inimitable style to the "Made in Polaroid 50/50/50" exhibition held in New York City from September 7th until September 14th
Launched to honor Polaroid founder Dr. Edwin Land and his love for the arts, Michael Bernard's pieces join an exhibition that will feature 50 eclectic pieces created by an assortment of 50 artists, designers, photographers, actors, and musicians that include Patrick Demarchelier, Mathew Rolston, Brett Ratner, James Franco, Phillip-Lorca Dicorcia, Sante D'orazio, Steven Klein among others.
Each work was created with photographs printed from the Polaroid GL10 Instant Mobile Printer – the first product from Lady Gaga's "Grey Label" line. On September 14th there will be a red-carpet reception and auction. Monies raised will benefit Free Arts New York, which provides under-served children and families with a combination of educational arts and mentoring programs.
Michael Bernard comments; "It was a very intense four weeks putting the three images together. I wanted them to be striking and have a voyeuristic quality. I used images that were tactile and playful, with an emphasis on strong light. It was complicated to put them together because I wanted to use the classic Polaroid border on each shot - to create a frame within many frames - multiple windows that when you step back become one image".
Liz Silver (President/Co-Founder Believe) comments: Believe has always been a supporter of the arts and we are thrilled to be able to participate in an event that not only exhibits great art but also gives back at the same time. To be among such respected company confirms our faith in Michael as a fine art photographer and director".
"Made in Polaroid 50/50/50" runs from September 7 at Phillips de Pury & Company's gallery at 450 West 15th Street in New York City. The auction is on September 14 at Phillips de Pury & Company's other gallery location on 450 Park Avenue, in New York.
For more information and to view works from the "Made In Polaroid 50/50/50" exhibition, visit http://www.polaroid.com.
For more on Believe Media go to: http://www.believemedia.com
Media contact: Kevin(at)Mojoworking(dot)com
###