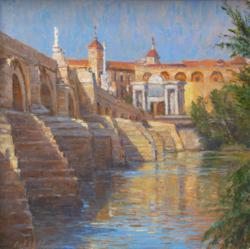 True to the recognition that each artist receives for Southwestern art, this European journey demonstrates a remarkable ability to capture sense of place.
--Nedra Matteucci
New York, NY (PRWEB) September 09, 2011
Three renown Southwestern artists; John Moyers, Curt Walters and Terri Kelly Moyers recently embarked on a European voyage to France and Spain for inspiration for a collection of paintings to be exhibited at The Forbes Gallery, 62 5th Avenue, New York opening December 1, 2011 and showing through February 2012.
The three artists are represented by Nedra Matteucci Galleries in Santa Fe, New Mexico. This is Nedra Matteucci Galleries' first New York opening.
The show, entitled "A Painting Journey to France and Spain," includes oil paintings of such iconic landmarks as the Alhambra in Granada, Spain, intimate interiors from the historic Chateau de Balleroy in France and a varied array of plein air landscapes from both countries. The exhibit will also include some Southwestern landscape and figure paintings.
Curt Walters, who calls Sedona home and has lived in Arizona for over 30 years, is more closely associated with the Grand Canyon than any painter alive today. Repeatedly winning top honors such as the Autry Museum's "Masters of the American West Award" and the "James R. Parks Trustees' Purchase Award," the artist also won Oklahoma City's coveted "Prix de West Purchase Award" for his painting "Spring Caprice." The painting now hangs in the museum's permanent collection. Walters is also an advocate for conservation, particularly in the Grand Canyon; he is a true steward for the landscape he loves to capture en plein air.
Husband and wife artists, John and Terri Kelly Moyers, are traditional realist painters whose subjects range from landscapes and images of the Southwest to figurative work. The couple met while at the Okanagan Game Farm in British Columbia at a one month painting workshop. John Moyers has won awards for Gold, Silver or Best of Show for ten straight years at the "Cowboy Artists of America" show and has been recognized for the "Lougheed Award" at the "Prix de West." Terri Kelly Moyers recently won the "Frederic Remington Painting Award" at the "Prix de West Invitational" in June, for the second time, for her oil "El Tejido de la Familia." The couple lives and paints in Santa Fe.
"We are pleased to be showing the work of these painters at The Forbes Galleries in order to exhibit the range and breadth of their skill and subjects," says Nedra Matteucci, gallery owner. "True to the recognition that each artist receives for Southwestern art, this European journey demonstrates a remarkable ability to capture sense of place."
ABOUT NEDRA MATTEUCCI GALLERIES
Unique among art galleries, Nedra Matteucci Galleries in Santa Fe, New Mexico is recognized around the world for its collection of contemporary and historic art. Since its founding in 1972, the gallery has sought to expand and refine its diverse collection of important paintings and sculpture. Today the gallery specializes in 19th and 20th century American art, including the work of the Taos Society of Artists, artists of the American West, and masters of American Impressionism and Modernism. The gallery also shows an extensive selection of paintings by Russian painters Nicolai Fechin and Leon Gaspard. Leading contemporary painters and sculptors who represent the depth and diversity of modern western art play a major part of the comprehensive collection of artists the gallery exhibits as well.
Nedra Matteucci Galleries also owns Morning Star Gallery in its historic location at 513 Canyon Road, Santa Fe. Morning Star Gallery displays an outstanding collection of Native American antiquities. For more information visit here or email indian(at)maorningstargallery(dot)com. Nedra Matteucci Galleries is located at 1075 Paseo de Peralta in Santa Fe. For more information please visit the [website or call 505-982-4631
ABOUT THE FORBES GALLERIES
The Forbes Galleries, located in the heart of Greenwich Village, anchor the ground floor of the headquarters of Forbes Media in New York City. The galleries are open free to the public 10:00 a.m. — 4:00 p.m. Tuesday through Saturday. Thursdays are reserved for unguided group tours and advance reservations are required. For more information about visiting The Forbes Galleries, please visit here or call 212-206-5548.
FOR MEDIA INQUIRIES/photos and interviews with the artists:
Please contact Jennifer Hobson, JLH Media
Jennifer(at)jlhmedia(dot)com
505-603-8643
For information regarding pricing, please call Dustin Belyeu at 505-982-4631 or email dustin(at)matteucci(dot)com
###