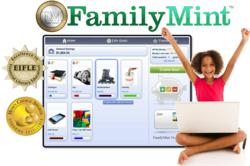 We are thrilled to be able to offer a service with such highly practical and relevant financial education to youth.
Ann Arbor, MI (PRWEB) September 08, 2011
FamilyMint is excited to partner with Jefferson Credit Union who is taking financial education to a new level while helping their young members appreciate money.
FamilyMint, the award winning online money management application helping parents raise money-smart kids and helping busy families be smarter about money, has developed a unique partnering platform to assist credit unions in attracting and retaining the youth market.
Buddy Sutter, Communications Coordinator, Jefferson Credit Union says, "We are thrilled to be able to offer a service with such highly practical and relevant financial education to youth."
"With more and more people struggling financially today, it's important for families to have the right resources within their reach," says Bob Masterson, President of FamilyMint, "and FamilyMint provides an interactive and engaging resource for parents to guide and educate their children."
A Wells Fargo survey found only 5 percent of people age 18 to 21 are confident they will achieve their financial goals and according to a Jump$tart Coalition survey, 18 to 24 year olds are the fastest growing age group in the U.S. filing for bankruptcy.
FamilyMint is the only budgeting and goal-setting tool available through credit unions where kids 5 to 16 learn by actually managing their own money in a safe, virtual environment. It is the modern replacement for the piggybank as well as an introduction to online banking and is designed to start forming the right financial behaviors in an interactive, fun and simple way while emphasizing the importance of saving, setting and achieving goals.
Parents act as the bankers and custodians of the money. Through a co-branding program, credit union members gain free access to FamilyMint's Premium version. This includes access to FamilyMint Mobile, and other enhancements that allow parents to automate allowance, add motivating interest payments to kids' accounts, and lock accounts meant for long-term savings goals. Through FamilyMint's e-mail Snippet, busy parents and kids are provided weekly tips and tricks on becoming money-savvy.
According to Karen A., a FamilyMint user, "FamilyMint is amazing. The graphs & visualization have completely turned things around. The kids are working together to save. FamilyMint takes care of managing the little things. So many times we were missing opportunities to teach the kids lessons. Now everyone has more control. I've been emailing all my friends. I heard about it through my credit union & never would have thought to look for something like this on my own. It's a fabulous thing that I wish I had when the kids were younger!"
Jefferson Credit Union is a local, member-owned cooperative servicing residents and workers in the Alabama counties of Jefferson, Shelby, Bibb, Tuscaloosa, Walker, Blount and St. Clair. Since 1941, Jefferson Credit Union has been owned by ordinary people who work together as members to help each other achieve financial success and live well.
###