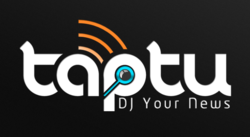 CAMBRIDGE, England & DENVER (PRWEB) September 08, 2011
Today Taptu, the social media and mobile search technology company, is announcing it has received €2.5 million ($3.5 million USD) to expand its product offering beyond its well-known social news reader app available on iOS and Android. The funding comes from DFJ Esprit and Sofinnova, who see Taptu's B2B solution as the next big opportunity in the digital publishing space.
Taptu will use the funding to build Tapform, a new offering that will provide tools for developers, publishers and hardware manufacturers to easily create their own personalized social news aggregator. Tapform also adds to existing products by aggregating content that increases customer engagement and by providing another potential source of advertising revenue.
"Taptu has set itself apart from other newsreaders by using its search capability to give users the power to discover and tailor the news they want, and to personalize the experience by letting them DJ and mix streams in ways that make sense to them," says CEO Mitch lazar. "With Tapform we are opening our technology, allowing other companies and media entities to incorporate features that make Taptu a hit."
Built on Taptu's proprietary search technology, Tapform will open up APIs that are currently available only on Taptu's apps, allowing any third party to create its own social news aggregator. Publishers can create highly visual streams around specific topics or present a filtered stream of stories based on keywords from a wide choice of sources including, but not limited to, websites, blogs and RSS. For example, a newspaper with an award-winning news section and blogs could create an app on that specific topic, creating streams of its own content, as well as bringing in additional content from other providers. Or, magazine publishers or blog owners with several titles could offer all of their properties in one place.
Taptu will also continue to deliver new innovation around its Android and iOS apps, adding additional content and features, including video, keyword-based search streams and user accounts. The company also plans to develop a HTML5 Web version of the product to widen the availability of the service and to offer customers a seamless reading experience across the desktop Internet and the mobile Web.
Download Taptu's consumer apps here:
For iOS:
http://itunes.apple.com/us/app/taptu/id392240746?mt=8
For Android:
https://market.android.com/details?id=com.taptu.streams&feature
About Taptu:
Founded in 2006, Taptu is an award-winning social media and mobile technology company based in Cambridge, England, and Denver, Colorado. Taptu builds innovative platforms, tools and applications that enable highly personalized creation, curation, recommendation, search, discovery, management, consumption and sharing of content across all personal screen-based devices. Wapedia, Taptu's popular mobile Wikipedia with over 1 million downloads, is also available for download at the Apple App Store and on the Android Market.
See http://www.taptu.com for more information.
###