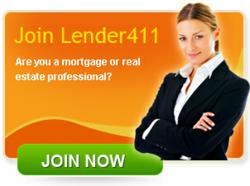 Lender411.com has a great idea of what a mortgage broker and or lender needs in this day in age to help separate them from the next guy.
Orange, CA (PRWEB) September 08, 2011
Lender411.com (http://www.lender411.com/ ), a unique online community that connects consumers with qualified mortgage professionals and lets them shop for the lowest mortgage rates, today announced the launch of its new SEO Marketing Package for mortgage professionals. This is a powerful marketing tool that leverages the strength of Lender411.com to enhance its clients' search engine rankings and web presence. There is no download or plug-in necessary and the feature is automatically turned on once the member signs up for this premium service.
Search Engine Optimization (SEO) is an integral part of any effective online marketing initiative. It involves optimizing the Content and Meta-data of a web site based on keywords that are relevant, targeted and desired for that particular web site. Good SEO involves both "on-page" and "off-page" optimization - the more challenging of the two being the off-page optimization (also referred to as the "link building strategy"). Here is where Lender411.com's new SEO Package comes into play. By using the SEO Package, Lender411 members will "activate" powerful incoming links originating from the Lender411.com website to their own website which will in turn result in enhanced search engine rankings and better site visibility.
"We know firsthand how hard it is to acquire relevant and legitimate links from authoritative sites," said Rocky Foroutan, CEO and founder of Lender411.com. "Hence, we have opened up our site to our premium members so they can get these valuable inbound links to their websites for a very affordable price of $29.95/mo."
Lender411.com is a market leader in the internet mortgage marketing sector and offers a reliable platform for lenders to promote their services and connect with prospective clients on a local and national level. Lender411.com has already established a significant nationwide presence and continues to grow rapidly.
About Lender411.com
Founded in 2006, Lender411.com is an online community connecting consumers shopping for home financing options with qualified mortgage and real estate professionals. The site provides an open and transparent platform where consumers can tap into a trusted network of mortgage professionals and seek expert advice and assistance in choosing the right loan. Lender411.com's innovative technology has defined new best practices standards for the online lead generation industry. For more information and an exploration of all services and resources offered, visit http://www.lender411. com.
###