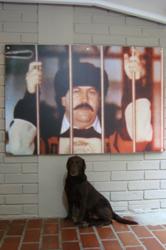 The Pablo Escobar is History tour will not only teach tourists about the man and the troubles he caused in Colombia, but also show everyone the remarkable progress of Colombia. Pablo Escobar is indeed history.
Bogota,Colombia (PRWEB) September 08, 2011
As the leading incoming tour operator in Colombia, See Colombia Travel say it´s their responsibility to point towards the bright future of the country. Acknowledging the desire for a Colombia tour that offers information about this chapter in Colombia´s history, newly appointed Marketing Communications Manager Jose Luis Pastor explains: "I have a strong bond to Colombia and so I know what a sensitive matter we're dealing with. I'm also a traveler, however, so I understand people that are curious, too. Escobar and everything his reign entailed were a dark time, but we´re not in that time anymore, and so it´s time to move on.¨
Indeed, this very reason is why See Colombia have opted to name the tour ´Pablo Escobar is History´, the suggestion being that, as with similar museums and tours concerning historical tragedies such as Auchwitz or the Mafia Museum in Chicago, the Medellín tour will well and truly draw a line under the episode and cast it into the archives of a museum of Colombian culture that is, for the most part, rich, colorful and full of life.
See Colombia Travel say that they appreciate the controversy involved, but insist the way to move on is to acknowledge the past, not to hide from it. Content Manager Paul Fowler explains: "The tour involves a visit to Escobar's old house; the house where he died and even a conversation with Escobar's brother, Roberto. This gives you a unique insight into the man and this life. It doesn't apologize for him, it doesn't excuse him, it merely allows it to become real, to become spoken about and therefore all the more strongly understood and, most likely, condemned." Moreover, the tour strives to contribute something to the vulnerable communities of Medellín. ¨Not only will the tour close the book on Escobar, profits will be donated to local communities and to AIDS research in Colombia.¨
The package, say See Colombia, will also give travellers on their first Colombia tour a unique insight into the contrast between the past and the present. Medellín, where the tour is based, is one of the most progressive and surprising cities in Colombia. It's lined with beautiful green parks, lively cafes and bars and a thriving cultural scene. It is, in fact, regularly cited as one of the most desirable cities to live in by expats. This Pablo Escobar tour will juxtapose the proud, remarkable reality of the city today with the troubles of the past, and travelers will see just how astonishing and rapid the progress has been.
The giant strides Colombia is making as a travel destination is remarkable. Once written off as the murder capital of the world, today Colombia is bustling with expats and proud locals, all keen to demonstrate what the country has to offer. No company represents this more than See Colombia Travel, who are at the forefront of showing the world how far Colombia has come through initiatives like their Colombia travel blog and frequent Colombia promotions. Their Pablo Escobar tour will not only teach tourists about the man and the troubles he caused in Colombia, but also show everyone the remarkable progress of Colombia. Pablo Escobar is indeed history. The future is bright, and there for the making. The "Pablo Escobar is History" tour can be found at See Colombia Travel's webpage ( http://seecolombia.travel/tour/pablo-escobar-is-history/ )
About See Colombia Travel
See Colombia Travel consists of a team of international travel experts with a passion for Colombia committed to create the best off the shelf and customizable tours around Colombia matching Colombians astonishing destinations with international standard travel services. http://www.seecolombia.travel
###