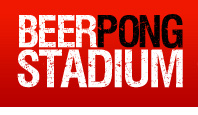 Beer pong is becoming more of a sport than a mere drinking game...there are already large scale tournaments with over $50,000 in cash prizes.
San Diego, CA (PRWEB) September 13, 2011
The newly launched e-commerce website BeerPongStadium.com provides an easily navigable, user-friendly platform for fans of one of the country's most popular drinking games. Visitors to the site can shop for custom tables supplied by a variety of manufacturers. Customers are encouraged to read up on helpful tips and strategies as well as share their own. Beer Pong Stadium effectively utilizes cutting edge e-commerce technology to ensure that beer pong aficionados have both the equipment and the knowledge to make the most of their beer pong experience. Beer Pong Stadium is designed to take care of the beer pong needs of all levels of players, from experienced pros to brand new fans of the game.
Offering a selection of beer pong tables from elite and well-respected brands such as Bpong, Pong360, Portopong and more, Beer Pong Stadium features exclusive deals that can't be found anywhere else. For those curious about beer pong and interested in finding out more, the useful explanation of table dimensions and rules in "Beer Pong 101" provides a leg up on the competition.
Beer Pong Stadium aims to ensure that playing beer pong and even hosting a beer pong tournament is a stress-free experience. This website is the new one-stop shop for all things beer pong, whether one is looking for the perfect table or inspiration for a clever team name. Beer Pong Stadium maximizes customer satisfaction and puts the focus back where it should be: on the game itself.
Tailored to suit the needs of all levels of beer pong players, Beer Pong Stadium offers only the highest-quality tables in a broad range of styles and sizes. The selection of portable, floating and standard tables is extensive yet not overwhelming, ensuring that customers can easily find the right table for them. Founder and CEO Jeff Oxford said, "Beer pong is growing in popularity every year and is becoming more of a sport than a mere drinking game. In the United States there are already large scale tournaments with over $50,000 in cash prizes. When a game becomes a sport, competitive players need and deserve the right equipment."
Beer Pong Stadium is a site for beer pong players by beer pong players. Other sites market only their own merchandise, but Beer Pong Stadium offers an aggregate of the highest quality tables from across the web. Dedicated to promoting games of the highest quality, this website provides unbiased reviews of the products you need to make the most out of your experience. Beer Pong Stadium invites feedback and input from fellow fans of the game who are working to enrich each player's experience.
BeerPongStadium.com is both easy to navigate and user-friendly, bringing the latest e-commerce technology to a longtime favorite game. Beer Pong Stadium does not market to individuals who are underage and asks its customers to drink responsibly.
###