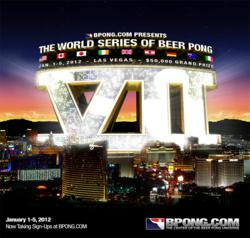 Vermont, Rhode Island and Idaho have never sent a team to compete in The World Series of Beer Pong
Las Vegas, NV (PRWEB) September 10, 2011
California may be known for its sun, surf and sand, but it's also home to the most World Series of Beer Pong players, according to BPONG.COM, organizer of the largest and longest running beer pong tournament in the world. More than 20% of World Series of Beer Pong® (WSOBP) players hail from California, which ranks no. 1 for the most players, according to BPONG.COM, which analyzed roughly 2,000 registrations over the past two years. New York ranks no. 2 with nearly 7% of player registrations. Western states, Texas (6.4%), Nevada (5.2%) and Arizona (4.6%) round out the top five states with the most beer pong players. The World Series of Beer Pong attracts players from across the U.S. and worldwide, with only three states – Idaho, Rhode Island and Vermont – having never sent a player to the WSOBP. Ontario, British Columbia ranks tops as the international region to send the most players to this popular sporting event, with 2% of competitors hailing from this large Canadian province.
"All six World Series of Beer Pong events have been held in Nevada, with the past four events taking place on the Las Vegas Strip, so it's understandable to see a large portion of players from neighboring states such as California and Arizona," said Benjamin "Skinny" Solnik, director of tournaments and technology for BPONG.COM. "But it's a bit surprising to see that nearby Idaho has never sent any players, and hometown players comprise only 5% of registrations."
Solnik adds that the event founders want to challenge the underrepresented population to show up at the 2012 World Series of Beer Pong. This includes teams from Idaho and Rhode Island, as well as Vermont, Maine and Wyoming, which round out the states with the fewest number of beer pong players. He'd also like to see more all-female and co-ed teams make a showing at the WSOBP VII, as no female has ever won the main event. Winners of past World Series of Beer Pong events hail from Missouri, New York, California, New Jersey and Michigan.
Sign-ups are currently underway for the Seventh Annual World Series of Beer Pong (WSOBP VII), which will be held Jan. 1-5, 2012 at The Flamingo Hotel and Casino in Las Vegas, paying $65,000 in prize money, including $50,000 to the winning team. According to Solnik, California and Nevada have the most teams registered to date. Player packages start at $450 per person, and include a four-night hotel stay plus a guaranteed 12 games over two days. Players can register online at http://www.bpong.com, and enjoy a $50 early-bird discount until Oct. 31, 2011.
Those unfamiliar with the sport of beer pong may be surprised to know that it has become popular with celebrities, baby boomers, college grads and elite athletes alike. WSOBP rules allow for play with beer, water or another liquid. In play, two teams stand at opposite ends of an 8-foot-long table, where ten 16-ounce cups, filled with roughly 2 ounces of beer or another liquid, are placed in a bowling-pin formation. Each team takes turns tossing beer pong balls (similar to table tennis balls) at their opponent's cup formation. If a ball goes into a cup, the cup is removed from the game. The first team to eliminate its opponent's cups wins. The WSOBP is the largest organized beer pong tournament in the world, created by Las Vegas-based BPONG.COM. The company's website is the Center of the Beer Pong Universe™, providing a center for collaboration and discussion about the sport of beer pong. Last year's WSOBP event drew over 1,000 participants from 48 U.S. states/districts, six Canadian provinces, and nine countries. For more information about the sport and other Satellite Tournaments visit http://www.bpong.com.
U.S. Ranking of World Series of Beer Pong Players by State – 2010 and 2011
(Source: BPONG.COM)
1. California 20.9%
2. New York 6.9%
3. Texas 6.4%
4. Nevada 5.2%
5. Arizona 4.6%
6. Maryland 4.2%
7. Florida 3.4%
8. Illinois 2.9%
9. New Jersey 2.9%
10. Colorado 2.8%
11. Michigan 2.7%
12. Pennsylvania 2.3%
13. Virginia 2.3%
14. Massachusetts 2.1%
15. Ohio 2.0%
16. Washington 1.9%
17. Wisconsin 1.9%
18. Georgia 1.6%
19. Louisiana 1.4%
20. New Mexico 1.4%
21. Indiana 1.4%
22. Missouri 1.3%
23. North Carolina 1.3%
24. Oregon 1.3%
25. Minnesota 0.8%
26. Oklahoma 0.7%
27. Iowa 0.6%
28. Tennessee 0.6%
29. Montana 0.5%
30. Kansas 0.4%
31. Connecticut 0.4%
32. South Carolina 0.4%
33. Kentucky 0.4%
34. Utah 0.4%
35. Hawaii 0.3%
36. Alaska 0.3%
37. Nebraska 0.3%
38. Delaware 0.3%
39. New Hampshire 0.3%
40. Arkansas 0.3%
41. North Dakota 0.2%
42. South Dakota 0.2%
43. West Virginia 0.1%
44. Mississippi 0.1%
45. Alabama 0.1%
46. District of Columbia 0.1%
47. Wyoming 0.1%
48. Maine 0.1%
49. Vermont 0.0%
50. Rhode Island 0.0%
51. Idaho 0.0%
(Ranking derived from roughly 2,000 WSOBP V and WSOBP VI registrations. International players, not shown here, represent an estimated 7% of players, and are available upon request. Source: BPONG.COM)
# # #