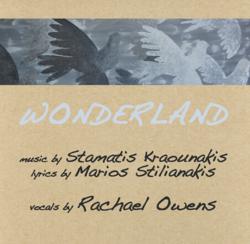 WONDERLAND is a song about "a world where everybody chooses to be themselves, a world of everyday moments of happiness and co-existence. It is about optimism and has a melodic rhythm that is infectious and makes you feel alive and happy!"
Los Angeles, CA (PRWEB) September 08, 2011
After gaining recognition with the popular video on YouTube (http://www.youtube.com/watch?v=N_9hyQyhBGY) achieving over 16,500 views in the first six weeks, WONDERLAND makes its official worldwide debut. The song and video have been widely watched and downloaded in the U.K., Australia, the U.S.A., Ireland and New Zealand. The pop song is being played in night clubs in the US and Europe and is featured in a radio airtime campaign. The producers of the CD are in negotiations to make the pop song available to key film industry music editors and to music licensing producers.
The album is available online on iTunes, Amazon.com and from other on-line retailers. Left to Right Productions will release the physical CD in mid-September at selected retailers in the U.S. such as Amoeba Records, and in Greece and Cyprus through Lixnia Records.
WONDERLAND is the result of a collaboration between Greek star composer/lyricist/performer Stamatis Krounakis and Los Angeles-based writer/director/lyricist Marios Stilianakis. Los Angeles-based Canadian singer Rachael Owens performs the song. WONDERLAND combines the melody of one of Kraounakis's biggest hits in Greece with the cheerful and upbeat original English lyrics of Marios Stilianakis.
The song WONDERLAND, according to lyricist Stilianakis, is a "world with no differences between our different ways of life and no arguments about our arguing states of mind, a world where everybody chooses to be themselves, a world of everyday moments of happiness and co-existence." Composer Kraounakis is thrilled with the new lyrics and interpretation and commented, "Marios Stilianakis has created optimistic lyrics and Rachael Owens's voice gives the song a melodic rhythm that is infectious and makes you feel alive and happy!"
The CD also contains a Kraounakis ballad titled "IN LONDON." Stilianakis wrote original English lyrics to this song about the city of London "where so many people I know have lived and fallen in love in and with the city. It's a song about believing in love and a timeless period in every person's life."
** For more information, promotional requests, or to set up an interview, please contact John Hodder at +1-310-364-2262 or john(at)lefttorightproductions(dot)com. Please also visit http://www.lefttorightproductions.com.
MUSIC BY: World-Renowned Composer Stamatis Kraounakis
LYRICS BY: Writer/Director/Lyricist Marios Stilianakis
VOCALS BY: Rachael Owens
MUSICIANS: Ryan Perez-Daple, Danny McCarthy, Nicolas Neidhardt (Piano) and
Paris Perisinakis (Cretan Harp)
PRODUCERS: Ryan Perez-Daple, John Hodder, Stamatis Kraounakis and Marios Stilianakis
EXECUTIVE PRODUCERS: John Hodder and Augusto Guerra
STUDIOS RPD Studios, Hollywood, CA; The Bridge Studio, Glendale, CA, and
The POD Studio, Los Angeles, CA
MUSIC CONSULTANT: Harris Hadjicharalambous
BACKGROUND ON THE ARTISTS:
About Composer Stamatis Kraounakis: Born in Athens, Greece, he is a music composer, a lyricist, a performer, a stage director and a journalist. He was presented with the National Award for Musical Composition in a motion picture and with three musical awards for TV. During the years 2006-8, he came in first at the "Athinorama" musical composition awards for his musical work for the stage. For the year 2006- 07, the Museum of Theatrical Studies and Research awarded him the "Demitris Mitropoulos" medal of appreciation for his contributions to the Greek theater. In 2008, he partook in the Athens Festival with an X-Stage production of "The songs that set the stage on fire!" – a musical production featuring the biggest musical hits performed on the Greek stage since 1920. During the 2010 Epidaurus Festival, Kraounakis wrote the music and starred in the play "The Acharnians" by Aristophanes (directed by Sotiris Hadzakis). Kraounakis has written the music for over sixty theatrical productions and over fifty albums. Since 2006, he has been publishing his music under his own label (Lixnia).
About Lyricist Marios Stilianakis: A writer of poetry, fiction, screen and stage plays, Marios recently directed his play "WATER" in Hollywood, California to critical acclaim and commercial success. He has published more than twenty short stories and poems in periodicals around the world and has written two books of fiction, "Greek Matter" and "The Undefined Cluster of Happiness." He created a comedy series for television, "The Students," and wrote and directed three short live action films, "Good Morning Aphrodite," "Agatha," and "Back in 10," featuring Michael Constantine. He is currently in development mode for his play "WATER" on Broadway while his feature script, "Failing Jean," has been optioned by a Hollywood-based Production Company and is in pre-production for the big screen.
About Singer Rachael Owens: Rachael is a Los Angeles-based singer-songwriter. She was born in Zambia, Central Africa, and grew up in a small town outside of Calgary, Alberta, Canada. She has performed at Canadian music festivals, TV shows, an Amnesty International Concert, Much Music, and song-writing showcases around the U.S. and Canada. Her debut U.S. album was just released and she will be performing in Los Angeles in October with dates to be set for performances in Canada. Her music can be described as soulful pop, mixing smooth vocals and classic songwriting with an eclectic musical style.
About Orchestrator Ryan Perez-Daple: A graduate of the Eastman School of Music, Ryan majored in both Classical and Jazz Performance. Ryan is currently working with artists Elize Van Der Horst, Leah Turner and Emily Valentine (The Voice) and recently finished working with Tim Myers (formerly of One Republic) on a song for his upcoming album. In film, Ryan worked on dance remixes and original music for the Will Gluck film starring Justin Timberlake and Mila Kunis "Friends with Benefits." As an executive producer for Killer Tracks, a division of Universal Music Publishing Group, Ryan has produced over 15 albums for TV and film licensing from concept to delivery.
** For more information, promotional requests, or to set up an interview, please contact John Hodder at +1-310-364-2262 or john(at)lefttorightproductions(at)com. Please also visit http://www.lefttorightproductions.com.
###