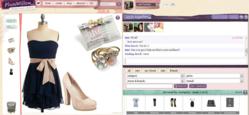 Style Together™ for the first time allows girls to virtually shop multiple retailers and multiple brands with the immediate gratification of input from their BFF's.
New York, NY (PRWEB) September 09, 2011
PlumWillow.com knows what a girl wants: to shop, chat and simultaneously style outfits online with her friends. This teen targeted social shopping site is launching a unique collaborative feature, dubbed Style Together™, exclusive to PlumWillow and a first in fashion retail as it incorporates multiple brands and multiple stores. Using Style Together™ teens can engage their friends in a real-time shopping experience as if they were all in a dressing room together selecting outfits from their favorite retailers (e.g. ModCloth or Delia's) and their preferred brands (e.g. American Eagle or Aeropostale.) Friends, family, or the online community at large can be involved on multiple levels: the visual, as they assemble outfits with the initiating teen, and the verbal, as they utilize the chat feature to share feedback, voicing opinions about the styled looks.
Collaboration doesn't end with friends. Teens can also co-style with popular bloggers and tastemakers. "PlumWillow's innovative platform - Style Together™ - enables teen brands real-time interaction with their target market in a dynamic and valuable way. With online retail traffic growing approximately 400% faster than in-store traffic, PlumWillow is a remarkably advantageous tool for retailers looking to step up online engagement of teen consumers," says Elad Baron, Chief Executive Officer of PlumWillow.
PlumWillow's Style Together™ feature extends the experience of a virtual trip to the mall into real-time conversation as it allows teens to invite others to style with them. Girls in numerous locations will now together have the ability to drag and drop fashion items on the canvas and as a group create a look they all approve. This breakthrough real-time multi-brand/multi-retailer co-styling platform is a first in the category. It was developed by the in-house tech team at PlumWillow.
"Style Together™ for the first time allows girls to virtually shop multiple retailers and multiple brands with the immediate gratification of input from their BFF's - and even those who may be virtual bystanders, objective consumers who log on to share their fashion insights. Our unique real-time feature empowers teens to unleash their inner fashionista as they extend the group shopping experience," says Lindsay Anvik, Director of Marketing, PlumWillow.
PlumWillow's integrated multi-brand outfit building platform presently allows teens to select from 900 brands available at approximately 40 participating retailers including GAP, Macy's, American Eagle Outfitters, Aeropostale, Kohl's, Target, Urban Outfitters, dELiA*s and GUESS. All of the items that the site's teen consumers use to create looks are available for purchase through PlumWillow.com.
To drive consumer interest at launch, Style Together™ will feature brand partners with proven teen appeal including:

Dalia MacPhee – Celebrity designer and prom gown fave, Dalia MacPhee's gowns have been spotted on the red carpet worn by glamorous teen icons from Lo Bosworth to Lea Michele. Using Dalia's designs, girls create outfits to win a chance to help style a celeb for the red carpet.
Figment.com – The winner of a creative writing contest will chat with top teen novelists, including Bianca Turetsky, author of the best-seller, The Time-Traveling Fashionista, and create an outfit integrating key phrases from popular novels or traits of favorite characters.
Style Together™ will link girls with their pop and fashion idols as well as their friends and peers. "We're interested in the social fabric — bringing teens together in a virtual community and inviting them not only to secure the input of their real life influencers but to also allow them to actually live the fantasy of earning the sign-off of their style icons," says PlumWillow's Elad Baron.
CONTACT: Lori Zelenko, lzelenko(at)nyc(dot)rr(dot)com, 212.486.9260
###