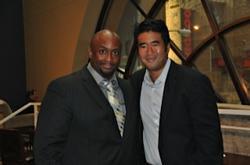 The successful CIO is a one that empowers themselves with the lessons, knowledge, and experience of a community
Atlanta, Georgia (PRWEB) September 07, 2011
CommVault, Headquartered in Oceanport, New Jersey, was founded in 1996 and first made its mark with the industry's leading backup software product. CommVault has recently been positioned in the "Leaders" quadrant in Gartner's 2011 Magic Quadrant for Enterprise Disk-Based Backup/Recovery. And leading technology companies worldwide have formed strategic partnerships with them, including Dell, HDS, HP, Microsoft, NetApp, VMWare, Novell, Oracle, Sun Microsystems, and Bull.
directIT Atlanta is an exclusive opportunity for leading local CIO and IT executives to network and brainstorm daily hurdles in an unparalleled learning environment. The event's strategic agenda is designed to encourage idea sharing among attendees, allowing executives to implement new strategies within the organizations that they serve.
Keynote Jeff Ma is a member of the MIT Blackjack Team featured in the best-selling book Bringing Down the House and the box office-topping hit movie 21, but there is more to this entrepreneur, media mogul than blackjack. Jeff Ma shows IT leaders how harnessing the power of technology-driven platforms, using not only social media, but concrete data and numbers, can create incredible success. Whether sharing his personal experiences on the blackjack table or his consultations with sports executives and scouts, he shows how you can use math and media to make a positive difference in your organization.
For more information about or to participate in directIT Atlanta, please contact Carlos Mendez, Event Director, at carlosm(at)ciosynergy(dot)com or 1.847.278.2213 ext 411. Visit us at CIOsynergy.com
About the CIOsynergy
CIOsynergy was founded to provide a unique platform to bring together the true visionaries of enterprise IT leadership. These are the 'thought leaders' that instigate both change and stability within the organizations they serve.
"The successful CIO is a one that empowers themselves with the lessons, knowledge, and experience of a community" – CIOsynergy brings forth this community of IT Leaders under the umbrella of world renowned leaders and visionaries to the likes Steve Forbes, Jimmy Wales, Howard Putnam, Jeff Ma and Frank Abagnale. Empowering the concept of 'Thought Leadership', our events incorporate face-to-face meeting opportunities through a series of open mic panel discussions and think-tanks coupled with inspiring business relevant keynotes, and C-suite networking programs.
Attendees have included the Chief Information Officers and IT leaders from Wal-Mart, Salesforce.com, Home Depot, Bank of America, Forbes Media, Wells Fargo, Shell, Allstate, State Farm, Career Education Corp, Pepsi, Sara Lee, Kraft, BP, Loyola University, Kaiser Permanente, Mayo Clinic, & Walgreens among 1000's more.
Operating in Chicago, New York, San Francisco, Houston, Atlanta, Minneapolis, London & Toronto, CIOsynergy has partnered with sponsors to include IBM, 3com, VMware, Unisys, Hitachi, Oracle, SunGard, Dell, Google, Amazon, and HTC among 100's more.
For more information visit http://www.CIOsynergy.com, or call 1.877.532.3480
###