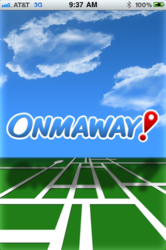 "Technology created the hazard of texting while driving," says Ferguson, "It is technology's responsibility to solve the problem."
Redondo Beach, CA (PRWEB) September 08, 2011
Ka Pow Interactive, LLC, a privately held mobile software development company, is pleased to announce the release of its new location sharing iPhone® app, Onmaway, which will be available on Apple's iTunes App Store on Thursday, September 15, 2011.
Onmaway is a simple way to automatically let other people know your location over time, whether it be your spouse for 20 minutes or your social network for the length of a cross-country trip. The app allows you to send a link to friends and family via text, email, and social media that lets them to track your location on any web browser.
Jeff Ferguson, president of Ka Pow Interactive, LLC, first came up with the idea for the app after one of his friends received her first ticket for texting while driving, which is a finable offense in his home state of California and 38 others across the country. "She was letting her husband know where she was so they could plan the rest of their evening," says Ferguson, "and the next thing she knows, she's being pulled over and given a ticket for what is arguably a very dangerous practice."
Recent studies show that over 25% of all accidents are caused by "distracted driving" and that number increases with teen drivers. With the help of Onmaway, users can simply let the app update their friends and family without ever having to touch their phones while in motion. "Apps that shut down texting completely are one solution," continued Ferguson, "but people are still going to want to communicate with their friends and family."
Now, using the Onmaway app, parents can let their family watch their progress as they drive home from work; kids can let their parents track their progress as they walk home from school; parents can watch their college age kids drive across country to their new campus; friends can watch as their friends move to a new city or state; business people can update their co-workers with their progress on their way to meetings; friends can let their friends know when they are on the way to a meet up for dinner or a show, and much more.
"Technology created the hazard of texting while driving," says Ferguson, "It is technology's responsibility to solve the problem."
Tracking services from cell service providers can cost $20 or more a month, but Onmaway is only a one time charge of $1.99 – much cheaper than a texting while driving ticket.
To celebrate the launch of Onmaway for iPhone, Ka Pow Interactive is giving away an Apple® iPad. Visit http://OnmawayApp.com for more information.
http://OnmawayApp.com
http://itunes.apple.com/us/app/onmaway-share-your-location/id460798119
Founded in 2003, Ka Pow Interactive, LLC is a privately held ecommerce and software development company. Copyright (C) 2011 Ka Pow Interactive, LLC., All Rights Reserved. Apple, the Apple logo, iPhone and iPod are registered trademarks of Apple Inc. in the U.S. and/or other countries.
Media Contact:
Gretchen Thomas
gretchen(at)onmawayapp(dot)com
# # #