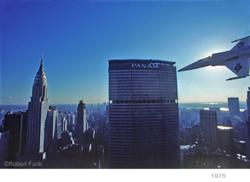 "I was not trying to be Nostradamus in 1975 but there is a very strange connection"
Miami, Florida (PRWEB) September 08, 2011
The photograph was taken by Robert Funk. http://www.robertfunkart.com In the 1970s, Funk was widely published for holding miniatures or toys in front of his wide angle lens and creating juxtaposed images that looked real but were not.
At first glance, the image of " Plane Crashing into Pan Am Building" looks like a real jet shot at the precise moment before impact . You also see the Chrysler building to the left. The rest of the east side of Manhattan has no skyscrapers yet. There were none on third avenue in 1975. The model plane is is an accurate reproduction. The photographer held it in his right hand and the camera was is in left hand. The photo was snapped. It looks stunningly real.
It was taken from the roof of the American Home Products building on Park Avenue. That building is adjacent to the Pan Am Building on the north side.
Funk got a very high and unique angle that seems to float above the city. The camera angle almost appears to be taken from another plane as you look parallel to the charging plane but look down on most of the buildings. This adds to a heighten level of credibility and haunting expectation of an emanate crash of a plane into a major Manhattan skyscraper. The time of day and position of the sun with a perfect saturated blue cloudless sky, links the 1975 photograph with 9-11 tragedy.
"I was not trying to be Nostradamus in 1975. That was just the style of photography I was doing. I have other photography of the world trade center juxtaposed with miniatures to tie the world photography style together. I have one photo that was taken on the roof of World Trade Center Tower 1 with a metal figure that looks as if some great event will soon take place," Funk states.
Robert Funk has been an artist ,photographer, advertising art director and social network pioneer for 40 years. See more miniature photographs at http://www.robertfunkart.com
###