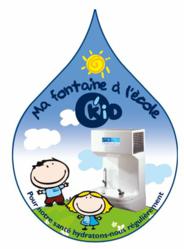 Lausanne, Switzerland (PRWEB UK) 12 September 2011
The initiative – the brainchild of Gilles Poux, Mayor of La Courneuve, and Nicolas Milesi, managing director of Chateaud'eau - was agreed in early July, with the first water cooler installed over the summer in the city's Charlie Chaplin School. With every 20 water coolers that Eden Springs installs into companies in La Courneuve, another school will receive a free cooler.
Aptly named 'My cooler at school', this initiative reflects Eden Springs' approach to sustainable development. Eden Springs will equip every school in La Courneuve – the base of the French subsidiary's headquarters – with free water coolers with the aim of raising awareness of the importance of hydration. Thanks to Eden Springs, the school pupils will have permanent access to fresh and clean drinking water. Being well-hydrated is widely recognised as an important factor in pupils maintaining concentration throughout the school day.
Nicolas Milesi, managing director of Eden Springs' subsidiary Chateud'eau, comments: "Studies show that only 50 per cent of children aged 3 to 5 years and 33 per cent of children aged 6 to 11 years drink the recommended volume of liquid. Dehydration affects many children and can be very dangerous for their health because children's body temperature increases much faster than adults. It's vital that children are encouraged to drink water in small amounts throughout the day, so we are delighted to play a part in increasing awareness and access to fresh drinking water in schools. Based on the positive feedback we are getting from schools in La Courneuve, we plan to roll the initiative out to a number of French cities in the coming months."
###