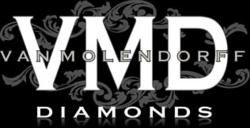 (PRWEB) September 12, 2011
Van Molendorff Diamonds, the new premier loose diamond distributor in the UK, is pleased to announce the launching of its brand new website. This new website will provide a completely revamped, user friendly and streamlined interface for Van Molendorff customers to more easily make their loose diamond purchases. With this new upgraded image and user interface, Van Molendorff hopes to provide its customers with unparalleled comfort and efficiency whilst making their purchases.
Since starting their operations in 1995 on the plains of the diamond rich country of Lesotho, the Van Molendorff family has built a name for itself as a premier dealer in rough cut and bulk diamonds. The experience that the Van Molendorff family has with the actual mining of these gems makes them an ideal candidate to deal in them, giving them a much more holistic understanding of the life of each gem and the processes it takes.
This is very important since so few dealers today have any understanding of what it takes to actually bring a diamond to market. Even fewer dealers understand the intense emotions that are brought forth at the initial moment where light hits the clarified surface of a freshly cut diamond. Not only do they have an understanding of these processes due to their years of involvement with all aspects of diamond production, but they can also speak personally of the power felt with the recovery of rough diamonds. These things greatly influence the passion that Van Molendorff Diamonds brings to its work, which will be evident through the greatly enhanced web presence that it is bringing to its clientele.
Van Molendorff Diamonds is a part of the Gemological Association of Great Britain and has recently announced the incorporation of the "First Light Foundation". The "First Light Foundation" seeks to bring aid to those affected by the scourge of conflict diamonds, and bears with it the pledge that no conflict diamonds shall ever be bought, sold, distributed, or held by Van Molendorff Diamonds. This foundation will do its part to uplift all peoples affected by the blight of conflict diamonds.
Van Molendorff Diamonds is committed to remaining on the cutting edge of information technology and customer service. Through the use of this new enhanced web presence, it is the hope of Van Molendorff Diamonds that users will find a much simpler, easier to use interface through which all of their needs can be met in a timely manner.
To view a range of quality diamonds, please visit Van Molendorff Diamonds website, http://www.vmdiamonds.com/.
# # #