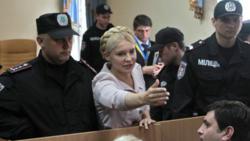 (PRWEB) September 08, 2011
Paul Wilson is a Research Fellow and Honorary Professor at Bond University in Queensland, Australia. He is a recognized international expert on miscarriages of justice and has researched, written and been actively engaged in exposing wrongful convictions.
"From the information so far available to Humanitad it looks very much as though not only is the Tymoshenko trial a breach of International Human Rights Conventions but it is also a gross miscarriage of justice," said Professor Wilson. "It remains to be seen as to whether the investigative phase of the prosecution was carried out fairly or not, but it appears reasonably clear that there are some major problems with the adjudicative phase of the proceedings against the former Prime Minister."
He noted the observations of the Danish Helsinki Committee for Human Rights, which monitored four cases including the Tymoshenko trial. He said that they had been left with the impression that prosecutors and judges had limited understanding for the presumption of innocence and equality of the parties during the trial.
"The Helsinki committee's report appears to confirm Humanitad delegation leader and former senior UK crown prosecutor Jerry Prus-Butwilowicz's observations about the proceedings so far," said Professor Wilson. "On the surface a Judge disallowing the vast majority of witnesses called by the defence to give evidence is a major miscarriage of justice in itself," he commented. "Unless there were clear legal reasons to exclude them then how can it be called a fair trial?"
Professor Wilson added: "The indecent haste of the trial coupled with what appears to be an inadequate time for Tymoshenko's legal team to be able to research and respond to the allegations both before the trial began and during the trial itself, simply reinforces the view that justice has not occurred in her case.
"If these allegations are confirmed by a thorough analysis of the transcripts of her trial then it is hard tosee, if she is convicted, why this will not go down historically as one of the worst cases of a miscarriage of justice inflicted upon a political leader anywhere in the world. Indeed, it is hard to imagine any appeal court in industrialised countries not exonerating a person charged with these offences based on the gross inadequacies of the trial process."
HUMANITAD
Notes to Editors:
Established in 1999, Humanitad is an international non-profit organisation dedicated to promoting peace, justice, human rights and good governance. It is Executive Producer of the Millennium Development Goals Awards which launched at the UN General Assembly Hall in 2009. It is also founding organisation of the Exemplar-Zero Initiative. Humanitad works with religious and political leaders across the globe and develops intergovernmental initiatives which serve human and planetary betterment. It recently advocated in the release of Indonesian spiritual leader Anand Krishna from hunger strike whilst detained in unlawful imprisonment. The Humanitad law delegation to the Ukraine as international observers of the Yulia Tymoshenko trial include: Former UK Senior Crown Prosecutor Jerry Prus-Butwilowicz LLB, Sir John Walsh, Professor Paul Wilson, Secretary-General Lewis Montague (Natural World Organisation) and Mike Upstone (Humanitad Director of Law and Administration).
Press release available at Democracy4us.org
# # #