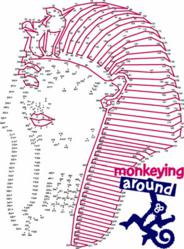 I am very proud to have gotten the opportunity to sell my books through Wegmans.
Rochester, NY (PRWEB) September 10, 2011
Monkeying Around, the publishers of the Greatest Dot-to-Dot Books, was recently accepted by forty Wegmans supermarket locations. Wegmans now carries the Original Dot-to-Dot Books one and two and the Super Challenge Dot-to-Dot Books five and six. In less than two months, half of the 800 ordered books have sold in Wegmans' stores, and some stores have sold out.
Ron Mansfield from the Southern Tier News Company, the distributor of Wegmans' books, says, "I ran some sales info about three days ago and about 50 percent have sold."
A few of the Wegmans store locations carrying the books include: Fairport, NY, Webster, NY, Pittsford, NY, and Henrietta, NY. Headquartered in Rochester, New York, Wegmans is a major regional supermarket chain, and one of the largest private companies in the U.S.
The Greatest Dot-to-Dot Book in the World is a challenging collection of connect-the-dot surprises that stands apart because of its complexity and variety. In addition to traditional dot-to-dots, there are unique innovations and variations for those who can count into the hundreds and follow simple instructions.
The Greatest Dot-to-Dot Super Challenge provides a whole new level of challenge and intrigue. Author and artist David Kalvitis continues his Dot-to-Dot revolution by introducing a variety of brand new puzzle inventions. The patent pending Arrow and Compass puzzles provide unique methods for connecting points to reveal a picture. Other new puzzle designs include Alpha Dots and ABC Sets as well as double page spreads with over 1,300 dots.
David Kalvitis, founder of Monkeying Around, says, "I have tried to get my dot-to-dot books into Wegmans many times. They are a very high quality organization. I needed to get some serious sales figures under my belt before they would consider my books. I am very proud to have gotten the opportunity to sell my books through Wegmans."
Dot-to-Dot puzzle books are a fresh approach to classic connect the dots and they have many educational benefits for children due to the levels of concentration required. They address specific learning categories including sequencing, instructions, image recognition, coordinates, alphabetical order, and compass directions.
For more information, visit http://www.monkeyingaround.com/ or connect with the company on Facebook.com/GreatDot2Dots.
About Monkeying Around:
Monkeying Around was founded in 2000 by David Kalvitis. Kalvitis is a lifelong puzzle and game fan, has a Fine Arts degree from Syracuse University and operated a graphic design business in Upstate NY for 13 years. Since 2000, Monkeying Around has been dedicated to offering innovative dot-to-dot products that will delight and entertain children and adults of all ages. Monkeying Around produces "The Greatest Dot-to-Dot Books in the World," a challenging collection of unique dot-to-dot surprises and variations. The company also publishes "The Greatest Newspaper Dot-to-Dot Puzzles," pocket and travel sized collections of weekly syndicated puzzles, in the pages of USA newspapers. In 2007, the first of the "Greatest Dot-to-Dot Super Challenge" Books was introduced.
About Wegmans:
Headquartered in Rochester, New York, Wegmans is a privately held, family-owned supermarket chain founded in 1916 by the Wegman family. It was ranked number three on Fortune magazine's 2010 list of the 100 Best Companies to Work For.
Contact:
David Kalvitis
PO Box 10131
Rochester, NY 14610
Info(at)monkeyingaround(dot)com
800-553-4300
###