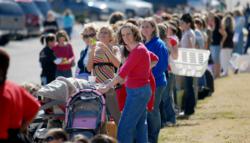 "Boogie Wipes help moms wipe out the pain and frustration associated with little ones' runny noses, Just Between Friends helps wipe out the fiscal pain and financial frustration of outfitting little kids." Shannon Wilburn, Just Between Friends
Tulsa, Oklahoma (PRWEB) September 09, 2011
Just Between Friends(JBF), the nation's leading maternity and children's consignment sales event franchise, today announced they are partnering with Little Busy Bodies, Inc., makers of Boogie Wipes and Saline Soothers Nose Wipes on a two year cross marketing initiative. Both growing companies have found that creating strategic partnerships with complementary businesses and services allows them to reach out to new markets, without the traditional costs associated with breaking into a new market. Just Between Friends has a goal to help families save money and Boogie Wipes works to keep kids healthy so the partnerhip was a natural fit.
"Boogie Wipes help moms wipe out the pain and frustration associated with little ones," said Shannon Wilburn, president of Just Between Friends Franchise Systems, Inc. "Just Between Friends helps wipe out the fiscal pain and financial frustration associated with outfitting and raising little ones. To us, we are serving the same moms and they could all benefit by knowing about both companies. Now, we can do twice as much marketing without having to drain our advertising resources in order to so."
The newly formed partnership will create ongoing cross-promotional opportunities for both companies via advertising, customer networking, speaking engagements and other marketing programs through 2012.
"We are very excited to be entering into this partnership with Just Between Friends," said Julie Pickens, CEO of Little Busy Bodies, Inc. Aligning ourselves with respected companies that reach our same demographic allows us to broaden our customer reach and truly deepen our consumer relationships."
Just Between Friends franchisees typically have two sales events a year, one in the fall and one in the spring. Each franchise is locally-owned. Families sign-up as consignors and sell their new and gently-used children's items. Consignors sell clothing, toys, furniture, baby gear, books, electronics and much more and earn up to 70 percent. Families shop and save between 50 and 90 percent off of retail.
ABOUT JUST BETWEEN FRIENDS
In 1997, Just Between Friends was created in a living room in Tulsa, Oklahoma when President Shannon Wilburn, a mother of two young children, and her friend Daven Tackett hosted a sale, while inviting 17 friends to be consigners. Promoted only in their neighborhood, the gross sales reached approximately $2,000. That's when the idea caught on. Each season, a new, larger event was held. In 2003, Wilburn and Tackett formed Just Between Friends Franchise Systems, Inc., and began developing and selling franchises. Wilburn is now the sole owner of the franchise system which currently has 115 franchises in 24 states. JBF has received national attention on several national television shows including: ABC News, Good Morning America, CNN, Headline News, Inside Edition and CNBC's The Big Idea. They have also been featured in The Seattle Times, St. Louis Post Dispatch, Sacramento Bee, LA Times, Daily Oklahoman as well popular websites sheknows.com and Disney website family.com and broadcast outlets in dozens of cities across the country including Dallas, Houston, Minneapolis, San Francisco, Denver and Seattle.
ABOUT BOOGIE WIPES
Mindee Doney and Julie Pickens developed the first-ever saline nose wipe called Boogie Wipes® as a solution for their kids' sore, red, stuffy noses. Using their business backgrounds, they formed Little Busy Bodies Inc. in May 2007. Sales went on to reach $1 Million in the company's first year of business and by 2009; Little Busy Bodies tripled its revenue to $3.4 Million. In June 2011, Little Busy Bodies expanded into the teen and adult market with the introduction of its second product line, Saline Soothers. The company now operates with 17 employees out of Beaverton, Ore. with products sold in 50,000 retail stores across the U.S. and Canada including Wal-Mart, Target, Walgreens, and Toys 'R' Us.
For more information about Just Between Friends, please visit them online at http://www.jbfsale.com. For information on the full line of Little Busy Bodies' products, please go to http://www.boogiewipes.com.
###