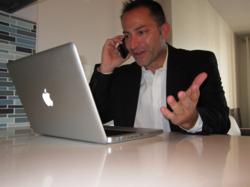 Crowdfund Investing is a way for community entrepreneurs to raise a small amount of equity capital from their social networks because the traditional means have disappeared.
Washington, DC (PRWEB) September 08, 2011
On September 15th at 9am, a subcommittee of the U.S. House of Representatives Committee on Oversight and Government reform will convene to hear 2 panels related to crowdfunding. Sherwood Neiss of the Startup Exemption will present a framework to the Committee regarding equity-based crowdfunding and how over the next 5 years, Americans can help create over 500,000 new companies employing 1.5M net new jobs.
Crowdfund Investing (CFI) is a concept that originates from crowdfunding. The main difference is that in traditional crowdfunding, a group of individuals "donate" small amounts of money to an idea (usually an art related project). In CFI, a group of individuals use small amounts of money to buy equity in a business. The goal of CFI is to provide entrepreneurs and small businesses with access to capital that they will use to hire and grow. Individuals are motivated by the desire to be a part of something bigger than themselves, to support an idea they believe in and for the potential of a financial return.
Sherwood Neiss, a 3-time INC500 entrepreneur who has felt the sting of the financial crisis as he tried to raise capital for 2 of his startups said, "What we are proposing is a jobs initiative that everyone should like. Small businesses and entrepreneurs are the long-term engine of our economy. However, they need capital to grow which has dried up since the 2008 financial meltdown. Our proposal provides a common sense, actionable and zero-cost framework that will create 1.5M new jobs."
Crowdfunding has grown in popularity over the past 5 years with millions of individuals contributing mainly to art related projects. Entrepreneurs see CFI as a way to raise moderate amounts of capital and investors see it as a way to help entrepreneurs in their community. However numerous academic reports discuss how SEC rules related on who can raise capital and who can invest stand in the way. If successful, Crowdfund Investing Web sites can provide the platform for investors to analyze ideas and self-select those that they wish to support. According to the Startup Exemption Framework, only ideas that reach their funding target will be funded, entrepreneurs cannot raise more than $1M and investors are limited on how much they can invest. The SEC would continue to provide prudent oversight to CFI to manage the risk of fraud and protect investors.
The framework comes out of an August 1st meeting in San Francisco where a group of entrepreneurs, investors, experts, authors and lawyers laid the foundation, following principles of limiting investor risk, optimizing fraud protection, enhancing informational transparency, and standardizing disclosure and enforcement.
The Startup Exemption states the methodology used to calculate the 1.5M net new jobs is based on matching the 500,000 ideas funded over the past 5 years on current crowdfunding platforms, less SBA statistics on normal business attrition (closure, merger, sale) times a trending growth curve by the US Census Bureau Statistics about Business Size.
-------
About STARTUP EXEMPTION: Startup Exemption is an initiative spearheaded by Sherwood Neiss, Jason Best and Zak Cassady-Dorion. Mr. Neiss, a 3-time Inc 500 entrepreneur, came across the problem when trying to help crowdfund two of his startups. While discussing it with Mr. Best, a 2-time Inc 500 entrepreneur, lawyers made it clear that the rules for raising capital where arcane, complicated and required costly compliance measures. Understanding the critical importance of startup capital, Neiss & his peers set about changing the regulations for investing in Startups. Their goal is to add an exemption to the Securities & Exchange laws based on equity based crowdfunding aka 'Crowdfund Investing.' Online petition and more information can be found at: http://www.startupexemption.com.
Other Links:

###