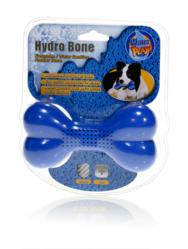 I love it! There's water inside, so [dogs] can hydrate; you can freeze it, too.
Pittsburgh, PA (PRWEB) September 09, 2011
An already award-winning hydrating chew toy has made another nationally-televised appearance. This time, the Hugs Pet Products' Hydro Bone appeared in a CBS "Early Show" segment on Davison's Inventionland, the Pittsburgh-based design facility, where the product was developed.
In the segment, CBS contributor Taryn Winter Brill tours the creative design facility, which turns ideas into affordable, everyday products. The workspace, where designers work in a life-size pirate-ship, a waterfall-draped cavern and an office tree-house, is as innovative as the inventions created there.
Following her Inventionland tour, Brill brings the Hydro Bone to the CBS studio, where she and "Early Show" co-anchors Chris Wragge and Erica Hill comment on it and other Davison-designed products created at Inventionland.
"I love it! There's water inside, so [dogs] can hydrate; you can freeze it, too," says Brill.
A 2010 Dog Fancy Editors' Choice award winner, the Hydro Bone also has been featured on ABC's "Good Morning America" and the Time Warner Home Network's "Welcome Home." With its absorbent foam core, pet owners simply soak the Hydro Bone and water is slowly released through specially-designed holes, hydrating pets as they chew and squeeze it. The Hydro Bone is also freezable, adding hours of refreshment and fun.
Following its inception by a Davison client and its creation in Inventionland, the Hydro Bone was licensed by Hugs Pet Products, which manufactures and markets the innovative product. The Hydro Bone, along with fellow hydrating chew toys the Hydro Ball and Hydro Saucer, can be found at select Bed Bath & Beyond stores, through Amazon and at several other online retailers.
Inventionland is the creative design facility of Davison, a new product development company that has created a method of building ideas into products that makes the process affordable for inventors, corporations and entrepreneurs. Products and packaging solutions designed by Davison have sold in more than 1,000 stores. For more information, visit http://www.davison.com.
Hugs Pet Products was established in 2009 as a venture between individuals, knowledgeable in all facets of the pet product industry, who maintain dedication to taking new and unique pet inventions and directly marketing them to retail merchants around the world. Hugs Pet Products designs, manufactures and distributes quality and innovative pet products worldwide.
For more information on the Hydro Family or any of Hugs Pet Products' innovative items, visit http://www.hugspetproducts.com.
###