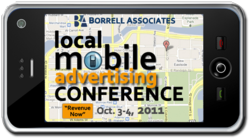 inspiring speakers with a no-nonsense, ROI-focused agenda and high-level networking
Williamsburg, VA (PRWEB) September 08, 2011
Borrell Associates today announced the speaker lineup for their Local Mobile Advertising Conference 2011, October 2-4, at The Fairmont Chicago hotel.
The Borrell Associates Local Mobile Advertising Conference showcases mobile advertising strategies, tactics and applications designed to capture advertising revenue for local media properties such as newspapers, TV, radio, yellow pages and pure plays. The conference is a unique opportunity to hear inspiring speakers with a no-nonsense, ROI-focused agenda that includes high-level networking. Sessions featured in the Local Mobile Advertising Conference 2011 include:
Mobile Video Workshop: Strategies for delivering video content on mobile devices covering four major topics by speakers Anne Schelle of the Open Mobile Video Coalition, Sandhi Kozsuch of Cox Media Group, Pat LaPlatney of Raycom Media, Randa Minkarah of Fisher Communications and David Karabag of Belo Interactive Group.
Mobile Revolution Keynote: Chuck Martin author of The Third Screen "Marketing to Your Customers in a World Gone Mobile," defines the implications, strategies and tactics for local media to thrive in the mobile revolution. Chuck is also the CEO of Mobile Future Institute and Director of the Center for Media Research at MediaPost Communications.
Trends That Matter Most: Michael Becker of the Mobile Marketing Association presents insights and forecasts on what is important for local advertising managers.
Mobile by the Numbers: What Consumers and Advertisers are Doing: Greg Harmon of Borrell Associates and Joy Liuzzo of Insight Express examine front-line trends from recent surveys on consumer and advertiser mobile ad usage and intent.
The Agency Approach: Integrating Mobile into Marketing Campaigns: Sandy Martin of Schurz Communications demonstrates how to increase interactive sales with integrated marketing campaigns.
Who's Making Money: Greg Sterling of Opus Research examines the Borrell database of 5,000 local media companies that shows how much money they are making in online revenues.
Buzz Session, Rapid-fire Case Studies: Conference sponsors Second Street Media, Cell It, Do App, Chitika, Forkfly, LSN, Willow Tree Apps and others get 5 minutes each to present their best moneymaking case study.
Tablet Strategies: Will a Mix of Subscription & Ad Revenue Pay Off?: Sean Polay of the Dow Jones Media Group and Ric Surkamer of the Sun-Times Media, LLC, explore the prospects for subscription-based services.
Location, Location, Location: CEOs Joe Meyer of Hopstop and Alistair Goodman of Placecast discuss strategy and tactics for location-based advertising.
Daily Deals Keynote: Iryna Newman, the head of mobile marketing for Groupon, discusses the strategy of daily deals to drive mobile-user acquisition.
What Local Advertisers Really Think about Mobile Media: Dick Larkin of American Marketing and Publishing, LLC, and William McMahon of Lincoln Inn Family Restaurant discuss what works and what does not for local mobile advertisers.
The Forgotten Mobile Opportunity: Phone Calls!: Brent Turner of Marchex describes how call tracking and analytics hold a gold mine for local media companies.
Mobile's Biggest Frontier: Real Estate: Greg Schwartz of Zillow, Brock MacLean of Dominion Homes, Scott Dixon of Real Estate Network Communications and Steven Yarger of Trulia Mobile explain how much they value mobile media's ability to reach potential buyers, sellers and renters in this $20 billion ad category.
The Ultimate Mobile Vertical: Automotive: C. Lee Smith of Ad-ology Research, Jose Puente of Autotrader.com and Sharon Knitter of Cars.com discuss the interactive and mobile strategies for connecting buyers and sellers in the automotive marketplace.
Pandora's Next Move: Going Local: John Hilton of Pandora describes Pandora's strategy for capturing local mobile advertising revenue.
Tapping into Mobile Ad Networks: Dan Gilmartin of Where, Inc., Sarah Wagman of Google Inc., Will Hsu of ATT Interactive and Craig Hagopian of xAd describe what they want from local media operators in order to deliver local mobile advertising.
A live streaming option is available for people who would like to attend but can't make it to the conference. The Attend@YourDesk option includes video archive access also and is available for individuals or company-wide access.
About Borrell Associates:
Borrell Associates is an advertising research and consulting firm that assists local media Web sites in maximizing their ad revenue. Borrell Associates helps media companies to develop and implement fact-based strategies and ad-sales tactics supported by our proprietary local ad-spending data through products such as the Compass Report that details local ad-spending patterns for 100 businesses by 13 media. In 2011, Borrell Associates acquired Belden Interactive, a leading survey research firm studying ad-spending intentions at the local-level by SMBs.
###