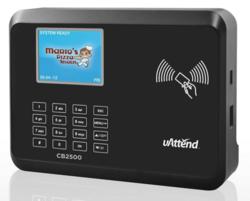 uAttend has now proudly releaseed another time clock – CB2500
Carlsbad, CA (PRWEB) September 21, 2011
uATTEND TIME CLOCKS, Sep 2011 – If you really understand the importance of time management in your business and actually want to fulfill your time and attendance management needs in an efficient way, the next release of uAttend is just perfect for you. Along with many effective time clocks solutions, uAttend has proudly releaseed another time clock – CB2500 on September 15. The latest release by uAttend will surely meet the taxing requirements of the highly competitive business world of today. With the release of CB2500, the leading name in time clocks, uAttend, has once again proved its superiority in the market. Now you don't have to worry about the time and attendance management challenges in your organization, as the unique CB2500 time clock will be there for you to handle all your pains.
The new arrival among a vast variety of innovative uAttend time clocks is exceptional from others due to its RFID technology. The smart feature of Radio Frequency Identification (RFID) reader in CB2500 time clock has made it one of the smartest and advanced time clocks to meet the fast pace of today. In spite of its amazing features and unique functionalities, CB2500 is to be released by uAttend in an affordable price of just $249.00. Due to the technological advancement, brilliant features and reasonable price, CB2500 is one of the world's most affordable time clock, which is a practical time and attendance software for any organization.
The smartly designed CB2500 is embedded with dynamic and versatile advantages which made it a perfect solution to serve all the time and attendance management needs of your workplace. The good looking and efficient CB2500 time clocks are especially designed by uAttend for customers who want to excel in the business world by extracting best outcomes from every department. Besides the most striking feature of affordable price range, uAttend CB2500 time clocks also offer a string of dynamic features which include its plug' n play simplicity and its ability to connect within any WIFI network within no time.
Keeping in view the importance of time attendance software for the productivity of business, uAttend has taken one more step ahead by planning to launch dynamic CB2500 time clocks with RFID reader, which will efficiently take care of all your time and attendance management requirements without putting burden on your budget. The web-based system of CB2500 time clocks will make it flexible for the users t o punch in and out their attendance, while the time clock is able to send punches to Internet in real time.
If you'd like more information about this topic, or would like to order uAttend Time Clocks, please call uAttend office (800) 518-8925 or email your queries to info(at)trackmytime(dot)com. UAttend is located at 2796 Loker Ave, Suite 111, Carlsbad, CA 92010.
###