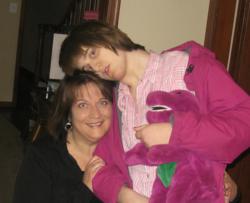 "As children with autism approach their 18th birthdays, families discover that thinking about how to help them has to change," states publisher, Peter Emch.
Roanoke, VA (PRWEB) September 08, 2011
A new website focusing specifically on issues of concern to adults with autism and their families launched this week. Autism After 16 provides information and analysis specific to the growing population of adults with an Autism Spectrum Disorder (ASD).
According to the Centers for Disease Control, 1 in 110 children in the United States has an ASD. Autism Spectrum Disorders are developmental disorders that can range from extremely mild to very severe and cause challenges in language, social interaction, and behaviors. As more children with autism become adults, communities are finding themselves in need of plans to provide services for this population. Although increasing attention is being paid to autism nationally, much of the dialogue revolves around the needs of young children.
Adulthood with autism requires renewed planning, according to Peter Emch, Autism After 16's publisher. Emch, a former health care services analyst, is himself the father of an adult son with ASD. "As children approach their 18th birthdays, families discover that thinking about how to help them has to change," he notes. "Legal rights change, available and appropriate services change, financing options change, time horizons should change… It's a different world. Services are available but you have to know how to access them. Missteps can cost years or exclude a family from access to services altogether."
The goal of Autism After 16 is to help adults with autism and their families sort through, analyze, and synthesize the overwhelming—and often confusing—amount of information that exists in the area of adult services, as well as to share family experiences. Many of the contributors to Autism After 16 have connections to autism; several are adults on the autism spectrum.
"Families planning for adulthood now have the benefit of lots of information we didn't have when I was growing up," says contributor Zosia Zaks, M.Ed., CRC. Zaks is an adult on the autism spectrum who counsels and educates families and professionals and is the author of the book, Life and Love: Positive Strategies for Autistic Adults. "Instead of fumbling in the dark, we can help autistic adults reach their potential and obtain a good quality of life."
Autism After 16 will include in-depth articles on topics such as Transition, Employment, Housing, Health, and Finances in addition to profiles of people with autism and their families, feature articles on innovative service providers, and stories spotlighting art by and about people with ASD. Emphasis will be on showcasing successful and creative examples of community inclusion.
"We want Autism After 16 to be the first stop for families of adolescents with autism, " Emch comments. "We hope they will then return to our website time and again as needs change and information is updated."
# # #