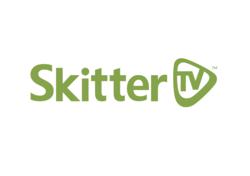 "Skitter TV's solution provides seamless delivery from the head-end of a cable operation to the subscriber box, offering real, measurable and immediate benefits for the provider," said Saunders.
Branson, Mo. (PRWEB) September 08, 2011
Skitter TV, the leading end-to-end systems provider of converged entertainment services, is participating in a panel discussion on TV to Go and Over the Top (OTT) Solutions during the Mid-America Cable Show in Branson, Mo., held Sept. 7-9, 2011. During today's General Session, Robert Saunders, CEO and founder of Skitter TV, is presenting alongside Mike Greninger of BITREAPER tm, an Internet video streaming service, and Terry Cordova of Suddenlink, the seventh largest cable broadband company in the U.S. Each panelist is speaking to TV to Go and OTT Solutions during the session, which includes a question and answer portion. Presenting his perspective as a business case, Saunders is discussing the profitable implementation of OTT for cable operators.
"Cable providers seeking new and better ways to provide customers with valued services will find this session extremely informative," said Robert Saunders, CEO and Founder of Skitter TV. "By enhancing their broadband services, cutting-edge cable operators can maintain and grow their subscriber base. Over the Top, converged solutions like Skitter TV, offer an economical way for operators to integrate new services for their customers while still remaining profitable."
While expanding services usually involves the costly and time-intensive process of expanding infrastructure, recent product and technology advancements, such as Skitter TV's Skitter Box™ and software, provide cable operators with an alternative to expensive system upgrades by offering hardware and software products that can be layered over existing services and systems.
"Our Over the Top products can be integrated into a cable operator's existing network, enabling an expedited deployment of services," said Saunders. "Skitter TV's solution provides seamless delivery from the head-end of a cable operation to the subscriber box, offering real, measurable and immediate benefits for the provider."
Skitter TV's converged media delivery platform of Internet TV, live TV and local TV, offers an alternative to traditional IPTV deployment for cable providers, telephone companies and Internet Service Providers that serve primarily rural communities in geographically large service areas. To assist operators in delivering cost effective services while also offering advanced features and quality, Skitter uses the Acclaim™ HD/SD Video Encoders, deployed at the head-end, to provide the necessary video performance to compete effectively with a quality video product. The company's Acclaim™ Encoders also increase bandwidth efficiencies within the facility as well as the number of channels available without expanding or upgrading the infrastructure.
Today's General Session, held in Short Creek Rooms 2, 3 and 4 of the Branson Convention Center, is open to the event's 300–400 cable operator attendees and to members of the press.
For more information on Skitter TV, visit http://www.Skitter.TV.
About Skitter TV
Skitter, Inc., a converged media technology company based in Atlanta, has more than 50 combined years of experience in computing, telecommunications, Internet and video technology between its founders. Skitter TV, the company's Internet TV platform, provides a broadband media experience by enabling telecomm service providers and entertainment content companies to capture, configure and deliver (over IP via DSL or fiber optics) video streams to TVs, computers and mobile devices. Skitter TV's software, program guide and Skitter Box™, a hybrid OTT/IPTV set-top box, offer consumers a premium-quality HD multi-screen entertainment service that combines live cable network, broadcast TV, Web video, on-demand content and digital audio, all in one unified, remote-control-driven location. For more information, visit http://www.Skitter.TV or follow Skitter TV on Facebook and Twitter.
###