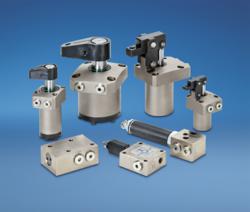 "The introduction of the 70 bar workholding line expands our global product offering to meet the requirements of a variety of new applications and customer needs,"
Menomonee Falls, WI (PRWEB) September 12, 2011
Enerpac introduces a 70 bar (1,000 psi) line of products for low-pressure workholding applications. Products including link clamps, swing clamps and remote mount system valves offer superior designs for a variety of application requirements where low hydraulic pressure is specified to hold work pieces in machining fixtures, welding fixtures or leak testing machines.
The 70 bar product line is ideal for applications where the hydraulic pressure for clamping is supplied by the machine tool's hydraulic pump, which generally supplies 70 bar or less. Link clamps can be used when a height obstacle must be reached over, instead of swung around, while swing clamps suit applications where part loading may be hindered by other clamp styles. Swing clamps swing out to provide easy access for loading and unloading.
"The introduction of the 70 bar workholding line expands our global product offering to meet the requirements of a variety of new applications and customer needs," said Al Hamdan, Global Marketing & Engineering Leader at Enerpac. "Combined with our 350 bar line, we now offer one of the most comprehensive lines of workholding products backed by Enerpac's world class quality, service and global reach."
Enerpac 70 bar link clamps are offered in a wide range of models, including 2 kN, 3.5 kN, 5 kN, 7 kN and 9 kN capacities, with right hand, center and left hand configurations. The swing clamps are offered in 2 kN, 3.5 kN, 5 kN, 7 kN, 9 kN and 20 kN models in left and right turning configurations.
Both single- and double-acting link and swing clamp models are designed with BSPP and manifold porting. Models with position indication staffs are also available for applications where clamp position sensing is required. The link clamp and swing clamp bases are made from CR45 for strength and toughness. The electroless nickel finish on the clamp base is both attractive and functional, providing a satin external finish for superior corrosion resistance and a durable polished wear surface in the internal cylinder bore.
The 70 bar line of workholding products also offers low-pressure system valve options, including remote mount P.O. check, sequence, and pressure-reducing valves. These valves feature both BSPP ports for use with tubing and manifold mount ports.
For further information on the 70 bar (1,000 psi) products call Enerpac at 262-293-1600 or e-mail info(at)enerpac(dot)com
Enerpac is an international market leader in high-pressure hydraulics, with 28 offices in 22 different countries and over 1,000 employees. Enerpac produces thousands of high-pressure hydraulic products that are distributed worldwide. Enerpac focuses on the design of products, from the smallest cylinder to complete computer-operated lifting & positioning systems, which increase productivity and make work safer and easier to perform.
###