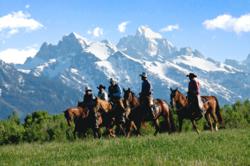 Jackson Hole, Wyoming (PRWEB) September 09, 2011
The Walton Ranch has a rich western history within the Jackson Hole community. The Walton Ranch family is delighted to contribute to the Artist's Award and to support the Fall Arts Festival with two very special gifts. The Walton Ranch is contributing $1,000 to the Design Excellence Award – Best Artist in Accents as well as a scenic Glider Ride against the majestic Grand Teton Mountain Range for one lucky Western Design Conference Gala Event attendee on the evening of September 8.
Their donation to the Design Excellence Award—Best Artist in Accents not only supports this celebrated annual but champions the outstanding roster of international artists. "Accents" is one of the artist categories in which works are crafted with fibers, ceramic, glass, paper, woven material and mixed media to create lighting, baskets, pillows, fireplace tools, wall hangings, screens and rugs.
The iconic Walton Ranch in Jackson Hole is testament to the American West and is currently on the market for the first time ever. Offered for $100 Million by Ranch Marketing Associates (http://www.RMABrokers.com), Brokers, Ron Morris and Billy Long, are available September 9th through 11th to show the majestic 1,848 deeded-acre Walton Ranch to qualified buyers and credentialed media.
Ranch Marketing Associates brings over 50 years of experience representing high-end recreational and agricultural ranch properties. Partners, Ron Morris and Billy Long have combined sales of over 2.5 million acres and over $500 million in sales. Together, they've assembled the most knowledgeable ranch real estate business throughout the American West. RMA Brokers combine unsurpassed marketplace knowledge with extraordinary client service. RMA Brokers live the life of Ranchers and possess true insider perspective and knowledge of all aspects associated with land investment and the ranch real estate industry overall. For more information, visit RMABrokers.com
###