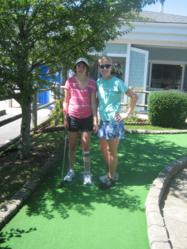 I am hopeful that by providing extra resources to UCLA's top notch team of talented and dedicated individuals, we can increase our knowledge of this disease and find a cure. -- Seth Wohlberg, founder of the RE Children's Project
Darien, Conn. (PRWEB) September 09, 2011
Imagine having a child with seizures so severe that the only known treatment is a cerebral hemispherectomy – removal of half the brain. For those living with Rasmussen's Encephalitis, this severe surgery is one of the few known treatments. Enter the Rasmussen Encephalitis (RE) Children's Project, a foundation that supports scientific research to find a cure for this devastating neurological disease, which has recently donated $111,000 to researchers in the departments of neurosurgery and pathology/lab medicine (neuropathology) at Ronald Reagan UCLA Medical Center. The gift will be used to support the research of Dr. Gary Mathern, Professor of pediatric neurosurgery and director of the UCLA Pediatric Epilepsy Program at Mattel Children's Hospital; Dr. Carol Kruse, Professor of neurosurgery; and Dr. Harry Vinters, Professor of neuropathology.
The researchers' goal is to narrow down the cause(s) of the disease by identifying whether immune cells or infectious agents such as bacteria or virus play a major role. By developing an animal model using cells from brain tissue from RE patients, the scientists hope to determine what components of the human brain leads to a Rasmussen-like disease. This research involves the collaboration of experts in brain immunology and neuropathology working together to create a mouse model of RE. This is the first time research of this type has been focused on Rasmussen Encephalitis, which is a rare inflammatory neurological disorder characterized by frequent and severe seizures, loss of motor skills and speech, paralysis on one side of the body, encephalitis or inflammation of the brain, and dementia. The disorder affects a single cerebral hemisphere and generally occurs in children under the age of 15 (average age is six years old); however, the condition can rarely develop in adulthood. Rasmussen's Encephalitis has no known triggers, causes or cures without surgery.
"We need to do more to accelerate our understanding of Rasmussen Encephalitis," said Seth H. Wohlberg, founder of the RE Children's Project, and whose 13 year-old daughter Grace, suffers from the condition. "I am hopeful that by providing extra resources to UCLA's top notch team of talented and dedicated individuals, we can increase our knowledge of this disease and find a cure."
RE typically affects previously normal children between the ages of two and ten years old. The disease process typically runs its course over a one to two year period during which time one half of the body is rendered useless and epileptic seizures continue unabated. An unusual feature of the disease is that it is usually confined to one hemisphere of the brain and is resistant to standard anti-seizure medicines. The only known "cure" is a surgical hemispherectomy — the removal or disconnection of the affected side of the brain. Recent progress in understanding of the disease, and the emergence of therapies that slow disease progression and help control symptoms, has led some researchers to believe that more targeted and effective medical treatments are potentially within reach.
In the summer of 2008, the Wohlberg's then 10-year-old daughter Grace started to experience epileptic seizures. After months of testing, her parents learned that she had the extremely rare neurological disorder. Grace underwent an initial hemispherectomy surgery in February 2009. However, her seizures recurred so her parents then brought Grace to UCLA to complete the hemispherectomy which was performed by Mathern in March 2010. Today, Grace is back in school readjusting to her new life with the assistance of a full-time aid. While the surgery has stopped the seizures, Grace faces lifelong disabilities that resulted from the surgery including partial blindness, cognitive issues and learning how to walk again.
Wohlberg and his wife, Deb, created the RE Children's Project in 2010. Since then, the foundation has sponsored cross-disciplinary research conferences and funded leading edge research around the globe focused on finding the cause and an eventual cure for RE. The organization also supports research dedicated toward the recovery process following hemispherectomy surgery.
"On behalf of the UCLA team, we thank the Wohlbergs for their confidence in our research proposal and hope to continue to partner with the RE Children's Project to solve this disorder and to help more children and their families," said Mathern.
Visit http://www.REChildrens.com for more information on the RE Children's Project, or http://www.neurosurgery.ucla.edu for more information on the UCLA Pediatric Epilepsy Program.
###